48 Heavenly Hostels You Need to Know Before Planning Your Next Euro-Trip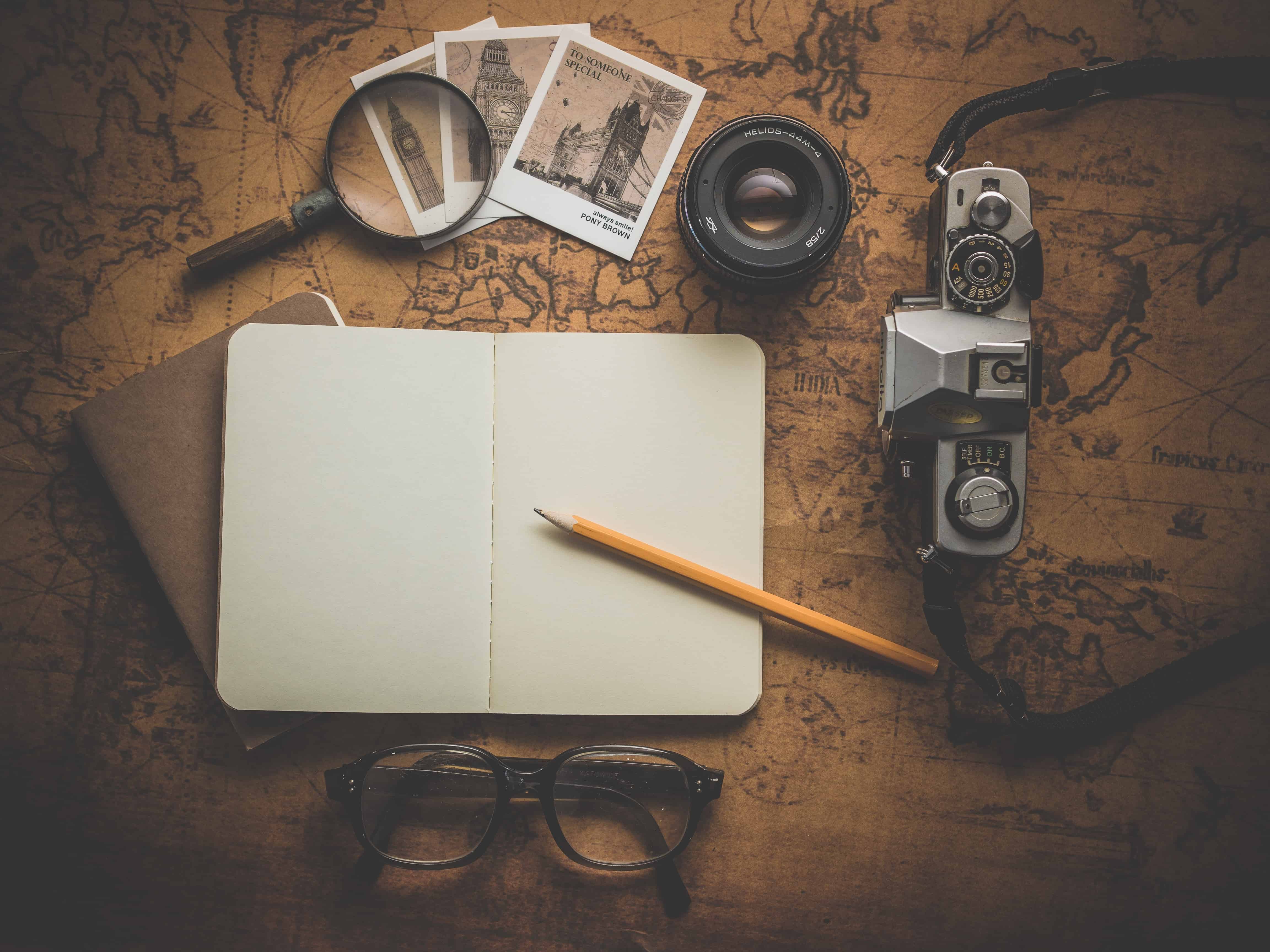 Europe means travel. There aren't enough words in the dictionary to describe the beauty of Europe. Travelers might be a little lost when it comes to traveling in Europe. The two majors constrain which comes to our mind before planning any trip is "Budget & Accommodation".
Time to rejoice now. We have put all our efforts to make your next Europe trip an easy affair. Most solo traveler & backpackers prefer hostels for their stay because it's more affordable compared to a standard hotel. But there is a misconception among travelers that hostels are shabby and uncomfortable as compared to hotels. On contrary, today's hostels are clean, stocked with amenities and well suited for solo travelers and even families. So before planning your next euro trip, you must know about some amazing 'theme hostels' which make your trip more affordable and comfortable.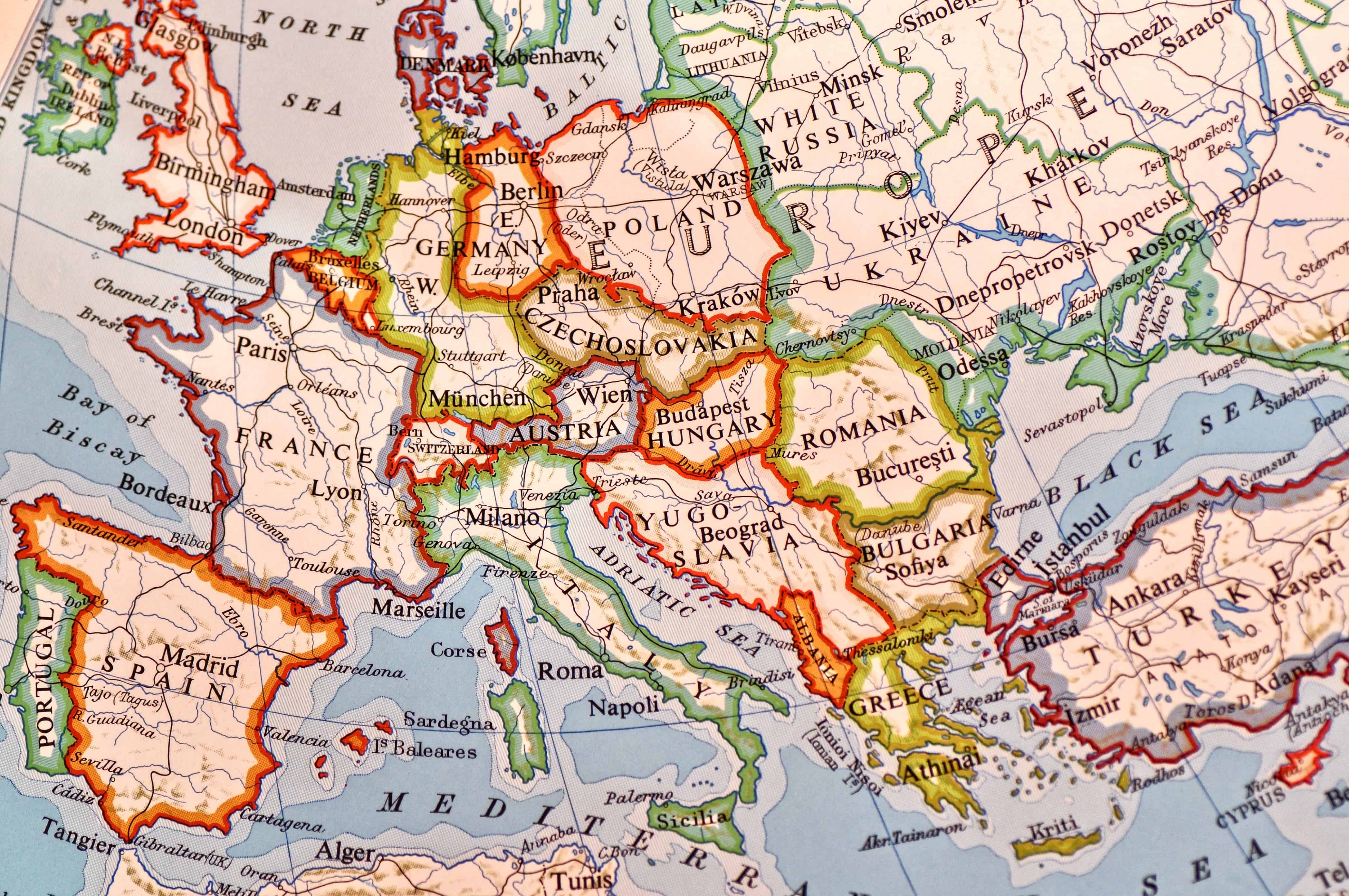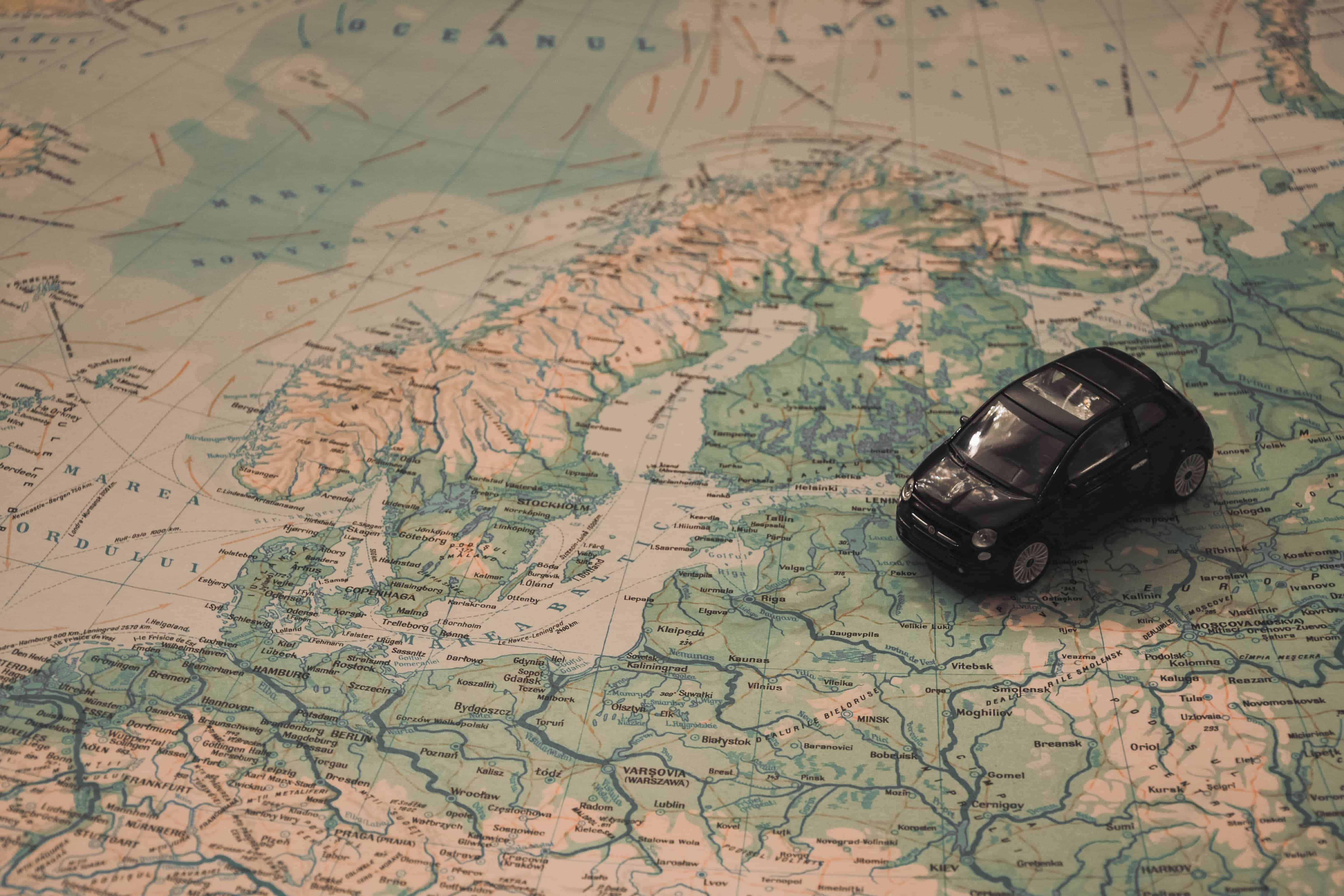 Planning your next holiday destination might not be as easy as picking out clothes or choosing where to go for dinner, well at least for most you. If you are planning to visit Europe this year, then set your GPS for Northern Europe. Sailing through Northern Europe offers an amazing opportunity to experience extremely diverse cultures in a matter of a week or so. Even better, you can do it all and only unpack once. The climate of the region goes from maritime in the south to subarctic and arctic climate in the north with areas of temperate and continental climate on the east. Summer is the main sailing season for Europe because the weather is warm and you can witness the Midnight Sun. Northern Europe, is a treasure of vibrant cities, culture, and landscape which is loved by the tourist. Ocean, forest, mountains, volcanoes and glacial valleys all await you in hidden corners. Open space is abundant in the Swedish country side, which is around double the size of the UK and with Finland, which has its own lake district with distinctive landscapes of deep blue water and pristine green forest. Planning your next holiday destination? Visit Northern Europe! and the best way to visit the city is to hire a car and hit the road.
Denmark, Copenhagen
Copenhagen Downtown Hostel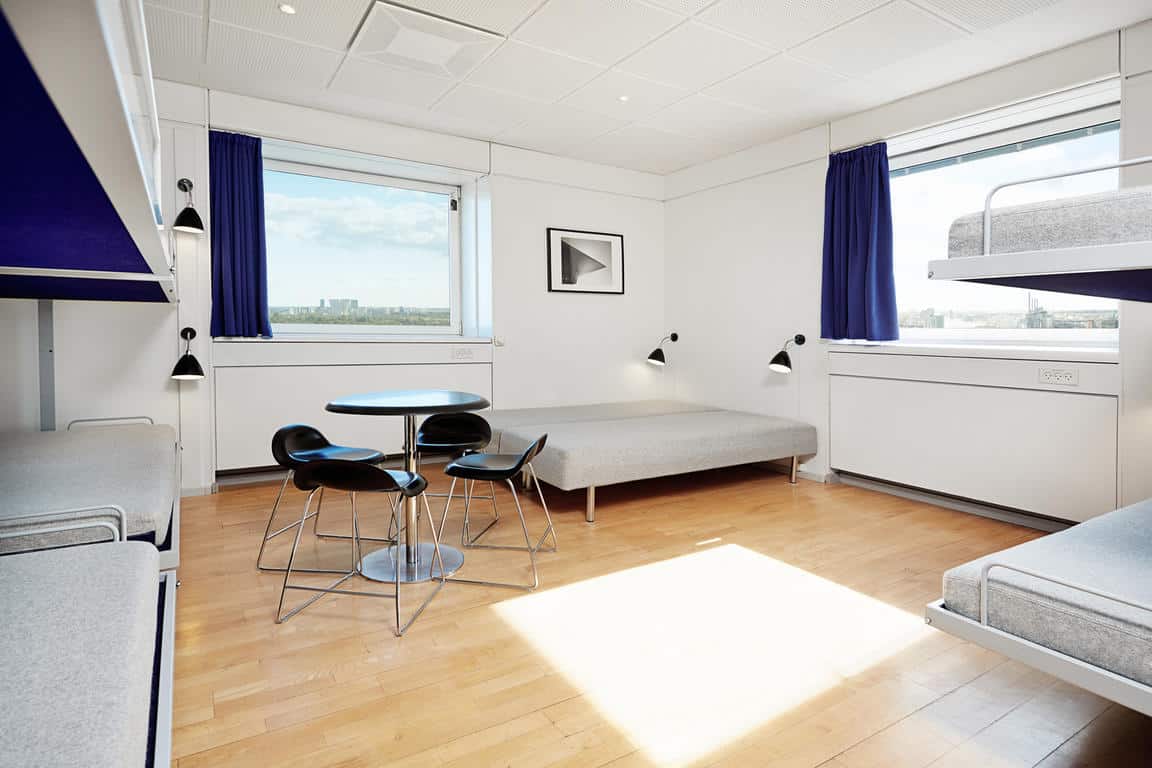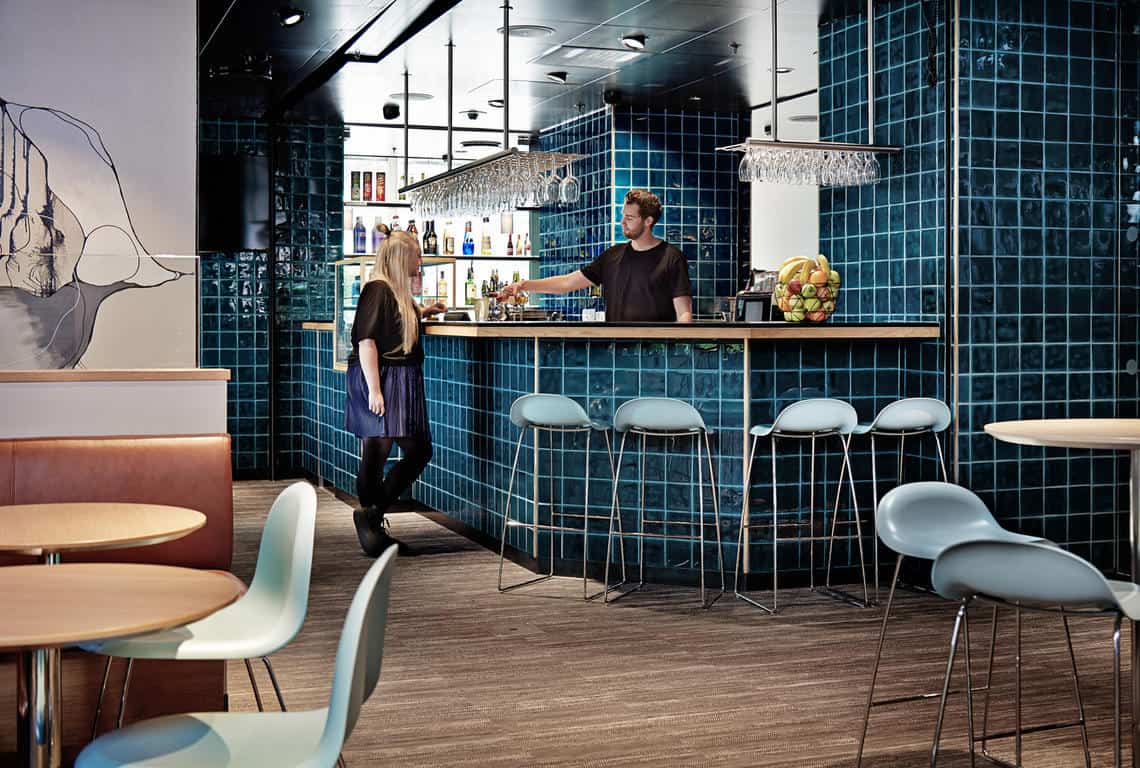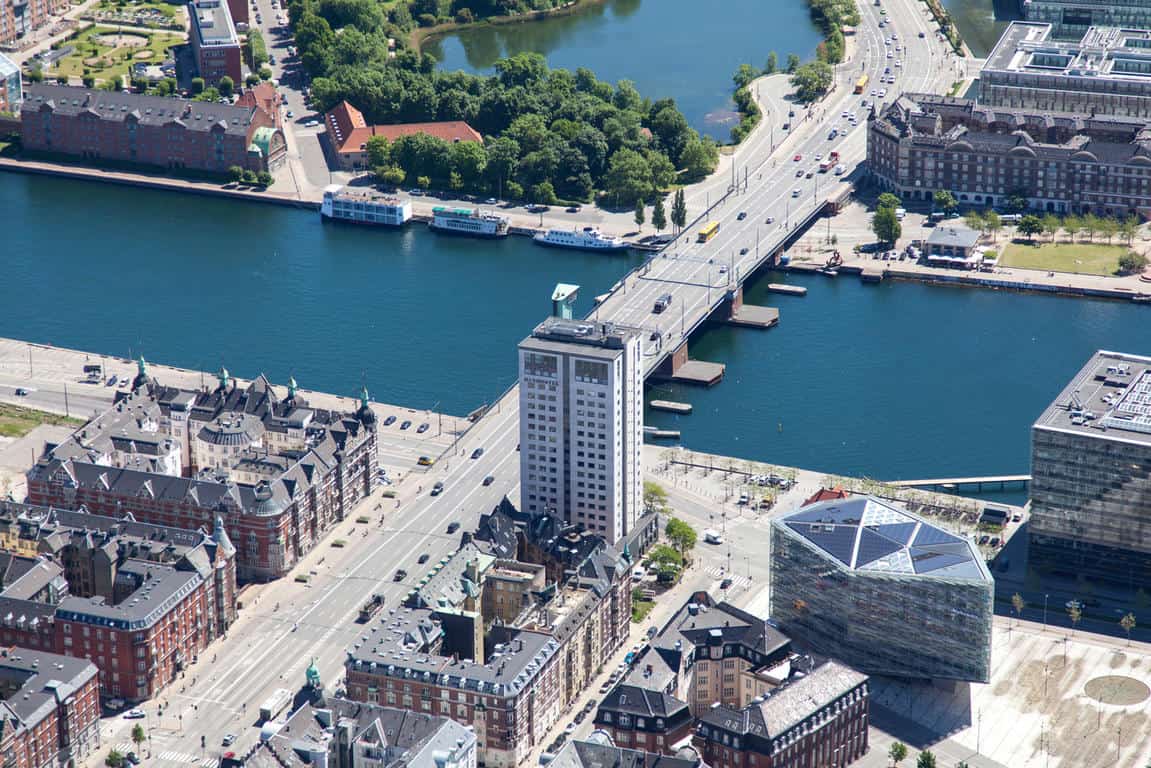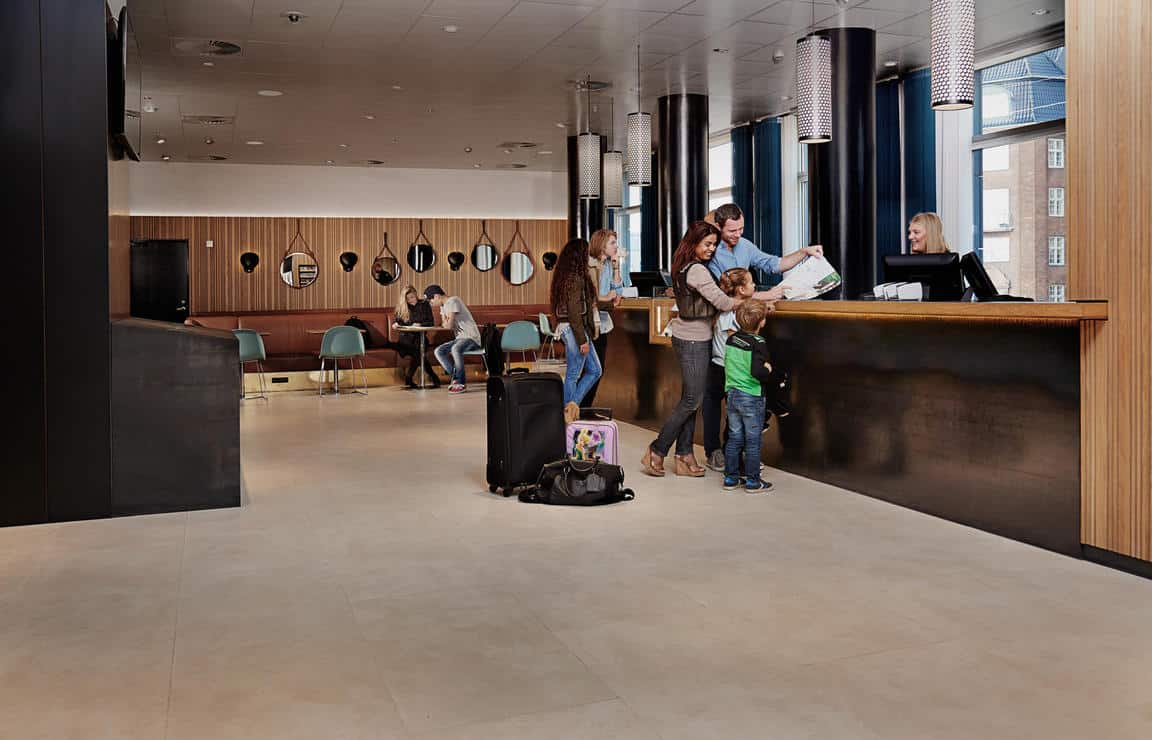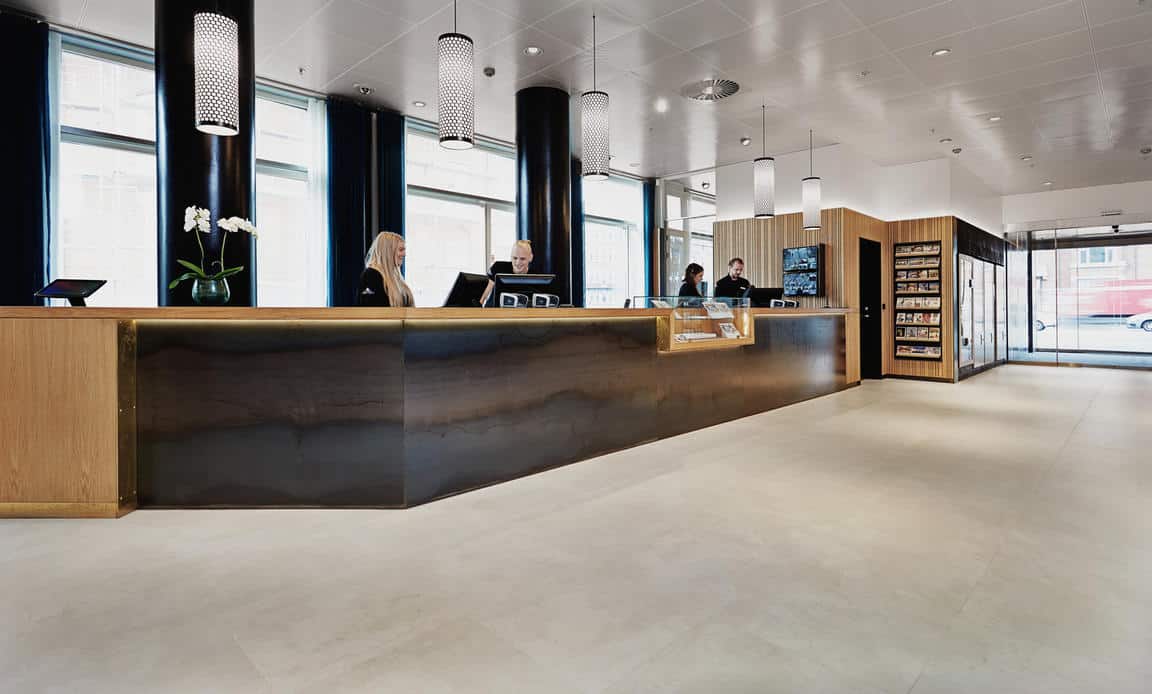 Location – Downtown hostel is centrally located, just between Christiansborg Palace and the Tivoli gardens, a 5 min walk. A 10-minute walking distance from Central Metro station. The location is easy to reach with all public transport available at the doorstep.
Theme – The hostel has a cool and relaxed vibe based on Scandinavian retro design. The hostel provides a trendy lounge – the perfect surrounding to chill and socialize. Guests can enjoy an all-you-can-eat breakfast at the cafeteria for an unbeatable price. For a liquid entertainment, they have the cheapest bars in town offering Happy Hour every night.
Value for money – Many visitors say it is probably the best value for bucks in the city centre. Witcenteractive prices, clean, quiet and extremely welcoming staff. A very rich breakfast buffet and theme nights it's a great location to socialize.
Why to visit – Copenhagen Downtown hostel won the 'Most Popular Hostel in Copenhagen' award at the Hoscars. The location is best for local hotspots with the longest pedestrianized shopping street in the world, bustling nightlife, fusion restaurants, the famous harbor beach. The hostel is next to Denmark's best museums, galleries, and theatres. P.S. – They only accept group bookings up to 20 people. Any no. greater than 20 is not accepted.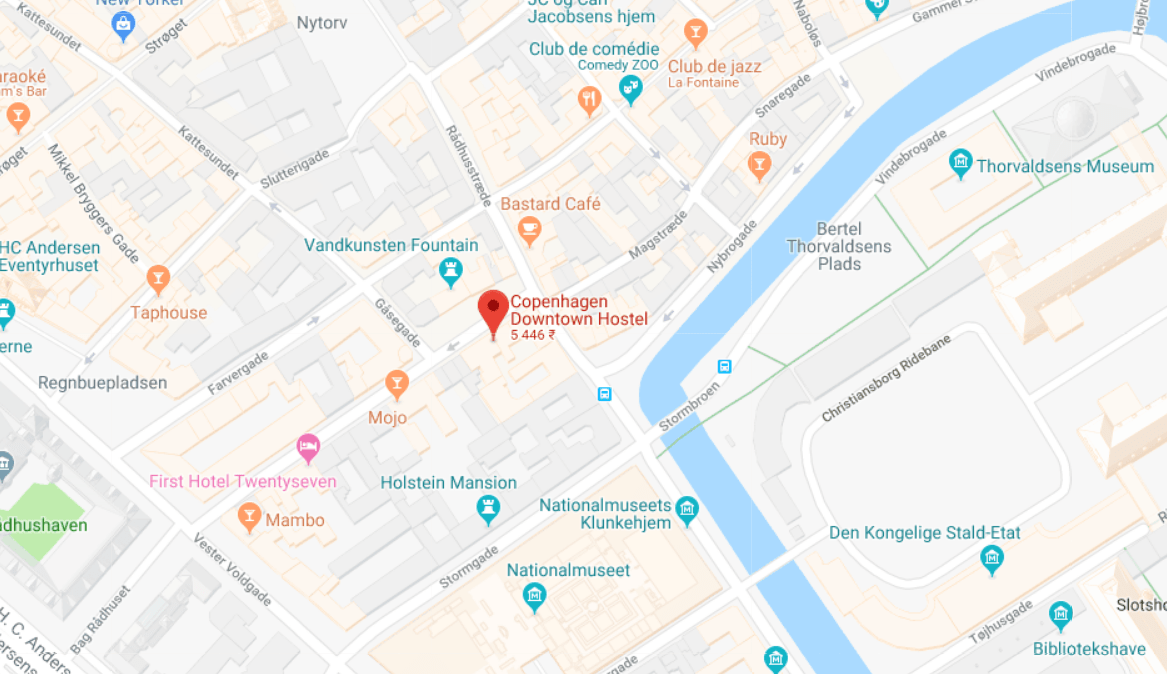 ---
Generator Copenhagen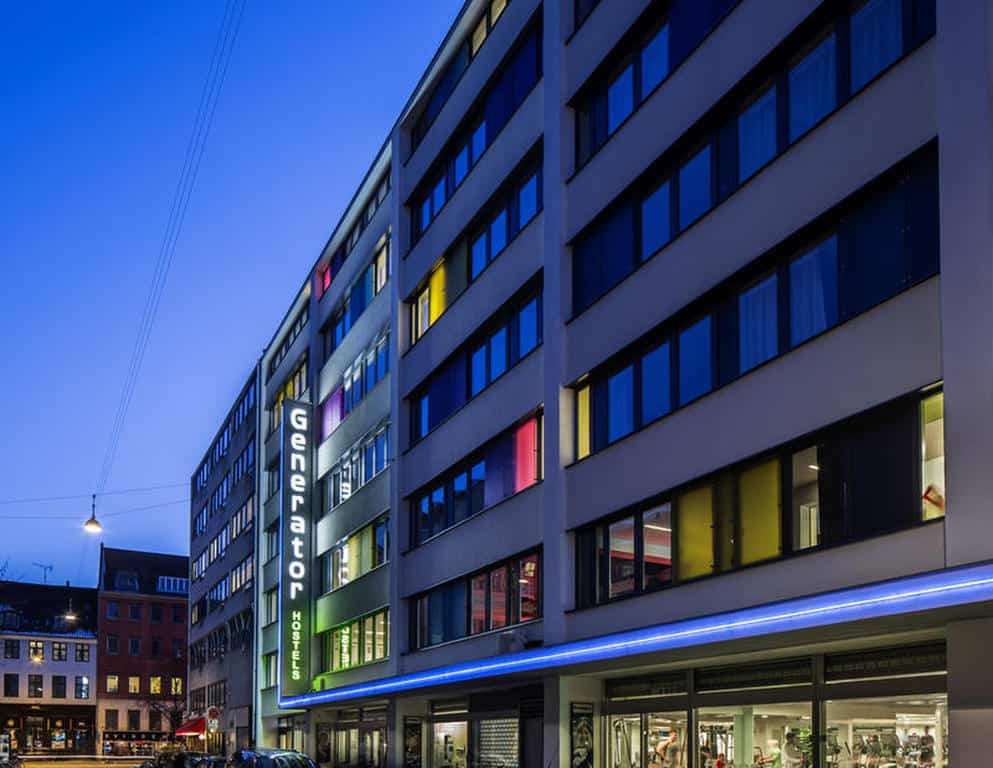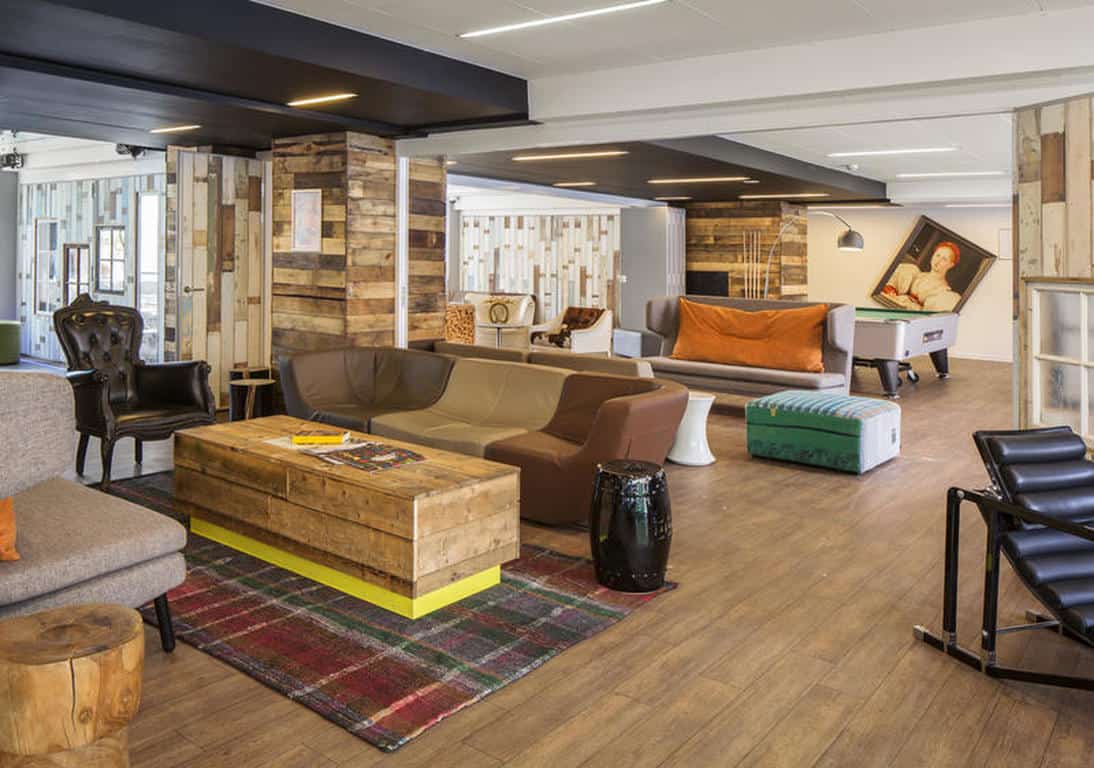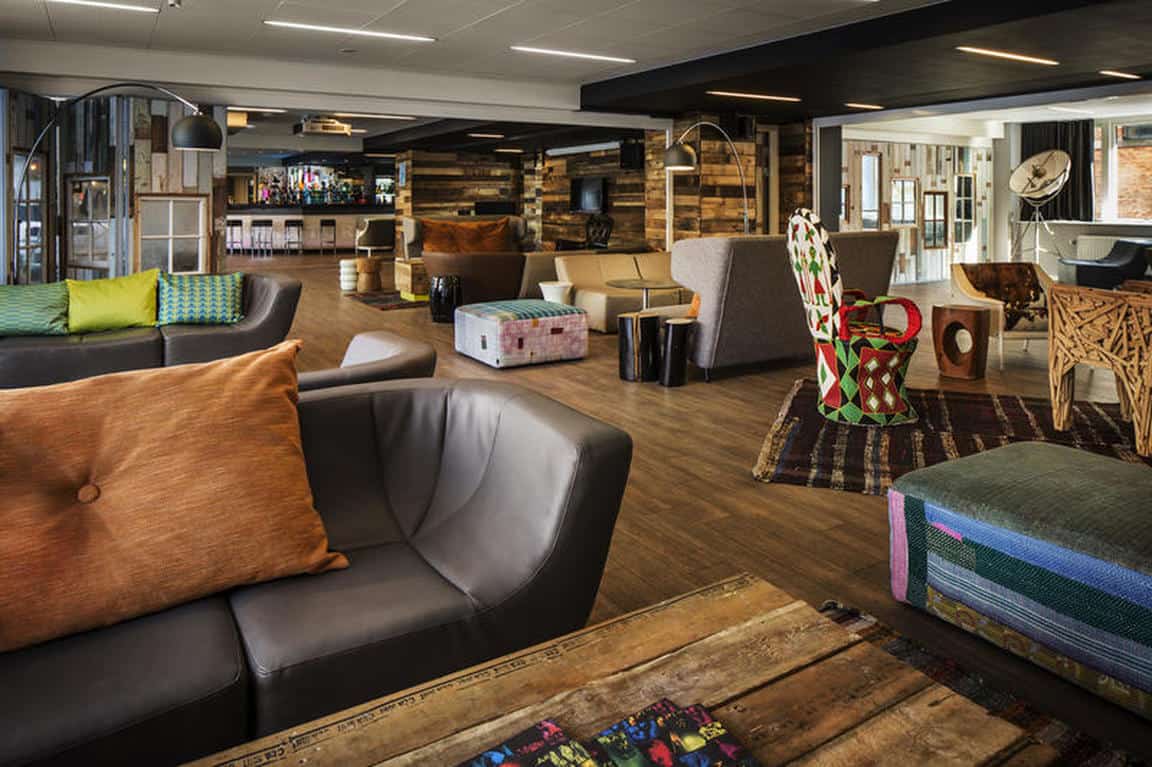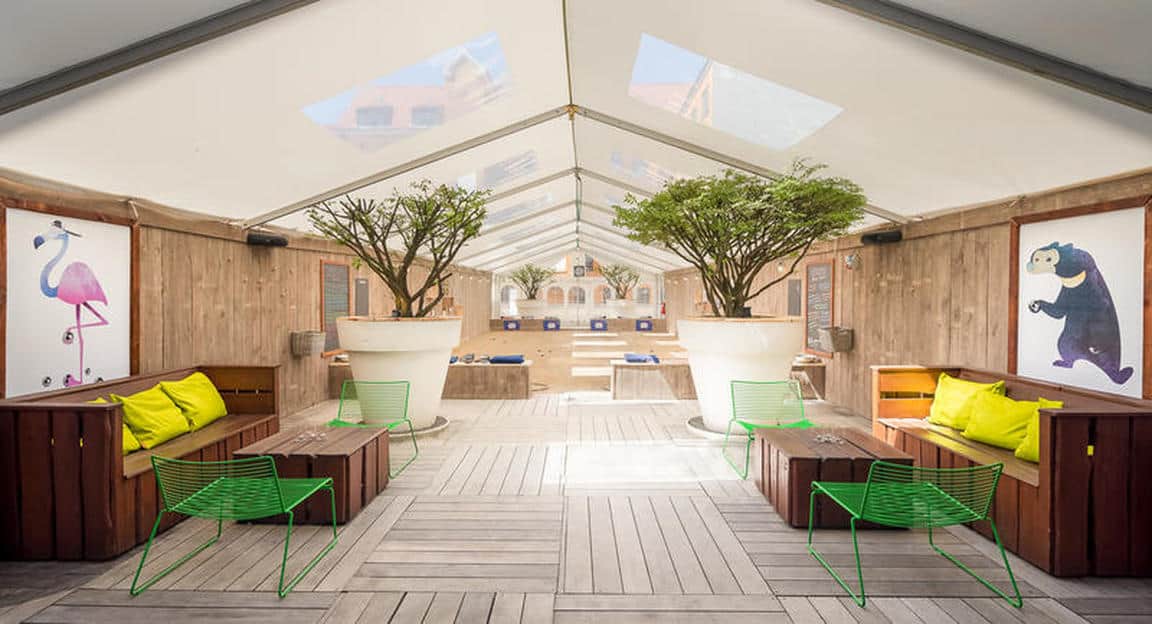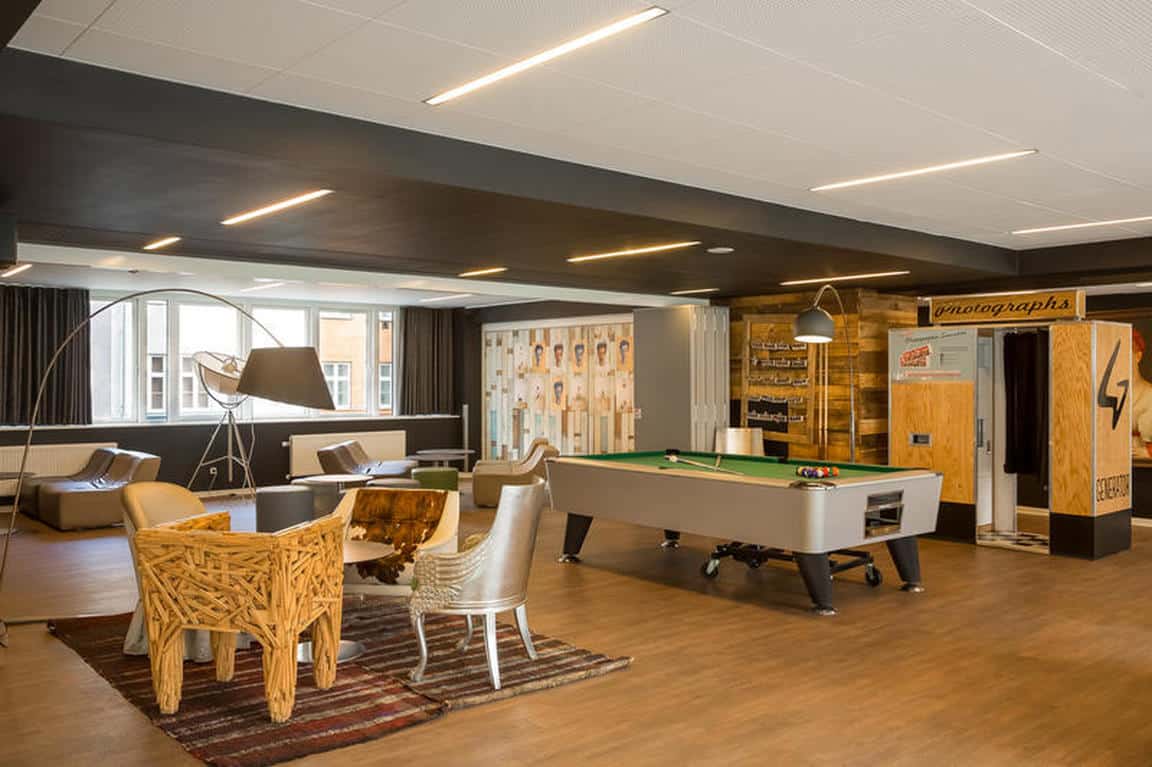 Location – Generator Hostel is the perfect place to stay if you're looking for a nice hostel close to Kongens Nytorv Metro Station. It is centrally located and an ideal location to explore the city on foot. It offers a convenient stay for all travelers – offering budget accommodation, a late-night bar, and free Wi-Fi throughout.
Theme – The theme is based on Tim Bjorn's illustrations with complex lighting, large outdoor terrace and pentaquin in the heart of the city. This hostel features large, solid under-bed lockers and privacy screens on the bunks. One can choose from a great selection of rooms, from Dorms to Private suites, to double & quads with innovative mod cons like individual power points and your own LED light for late night reading.
Value for money – Generator hostel is a bonus stay with always friendly and helpful staff, who make you feel a like you are staying in a homestay. Nightclub, acoustic décor and warm atmosphere will surely leave you in a win-win situation. The generator is the perfect place of refuge, with great beds for a comfortable sleep, a bar, and lounge that serves the best drinks and entertainment, and of course, you'll be enjoying Copenhagen life in the most authentic surrounding.
Why to visit – The hostel provides gigantic common rooms with lots of amenities, big terrace, affordable price drinks at the bar and breakfast. Guests can relax with a drink in the lounge while watching TV or enjoying billiards.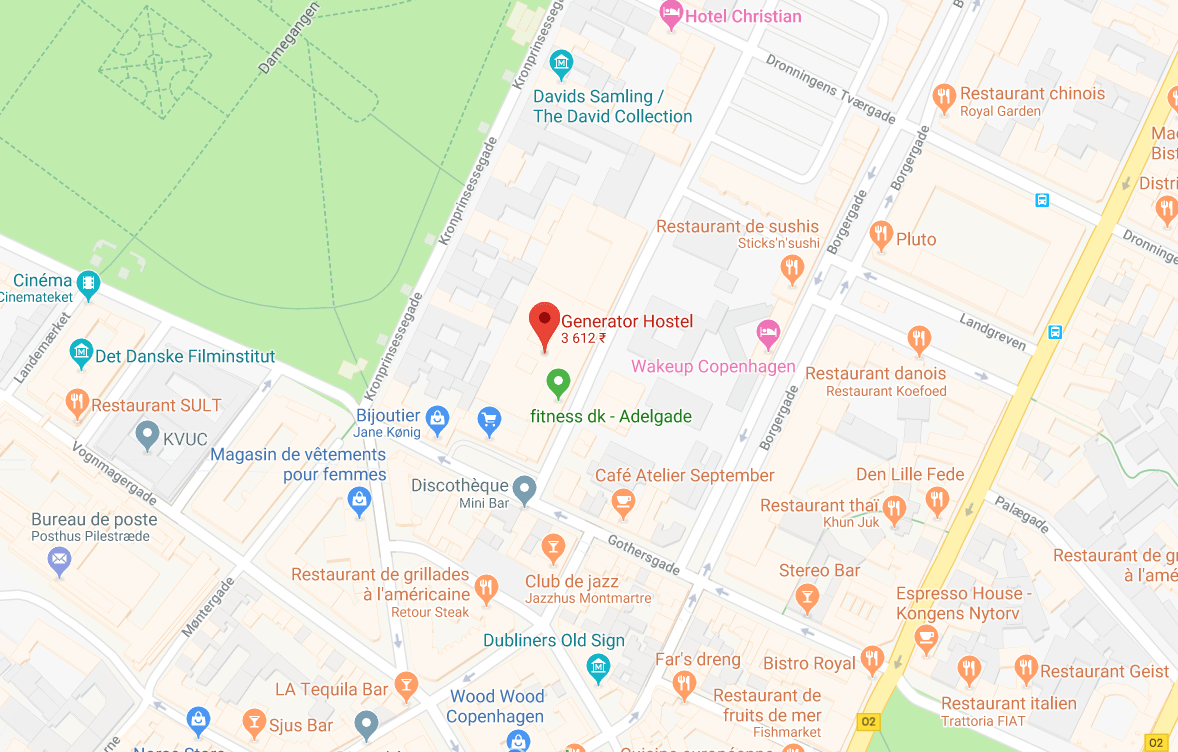 ---
Steel House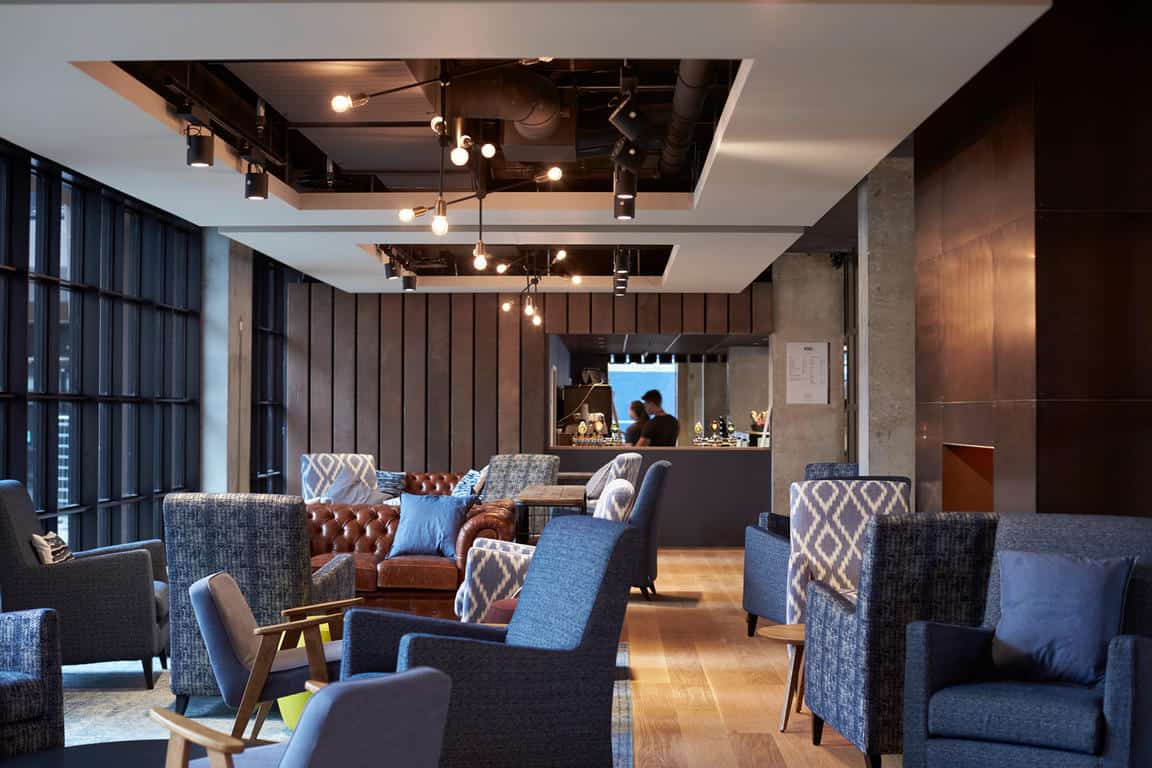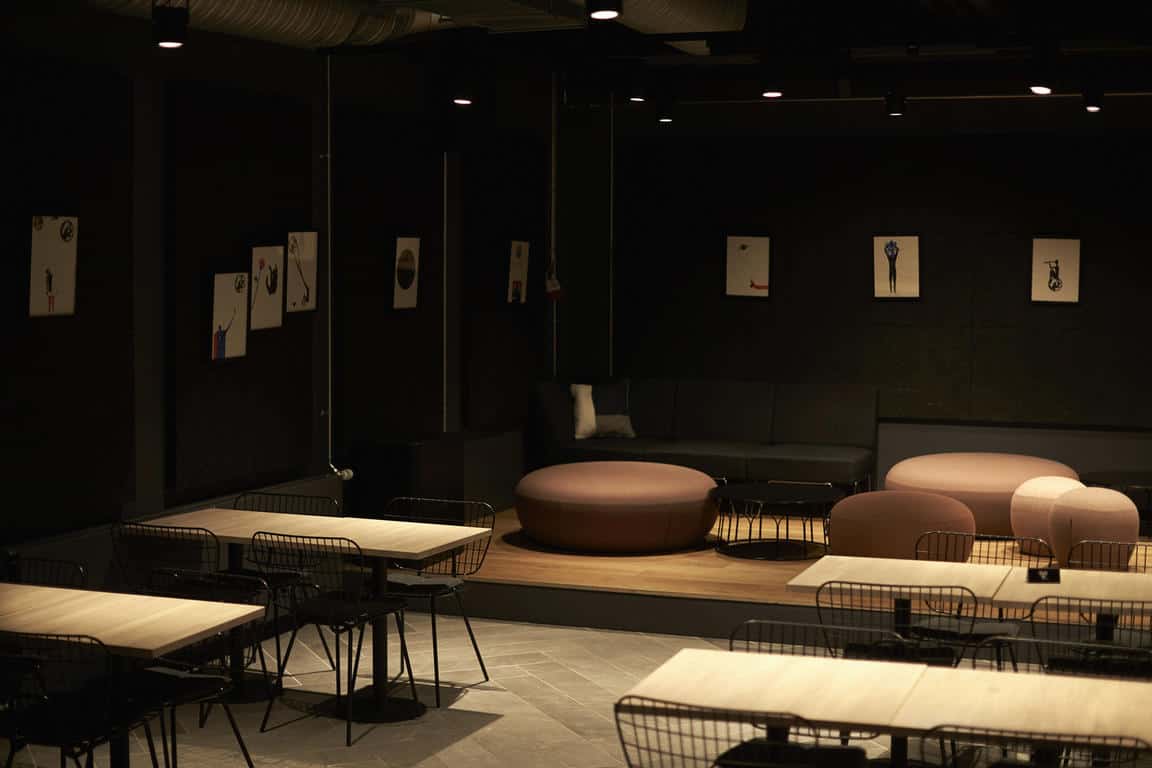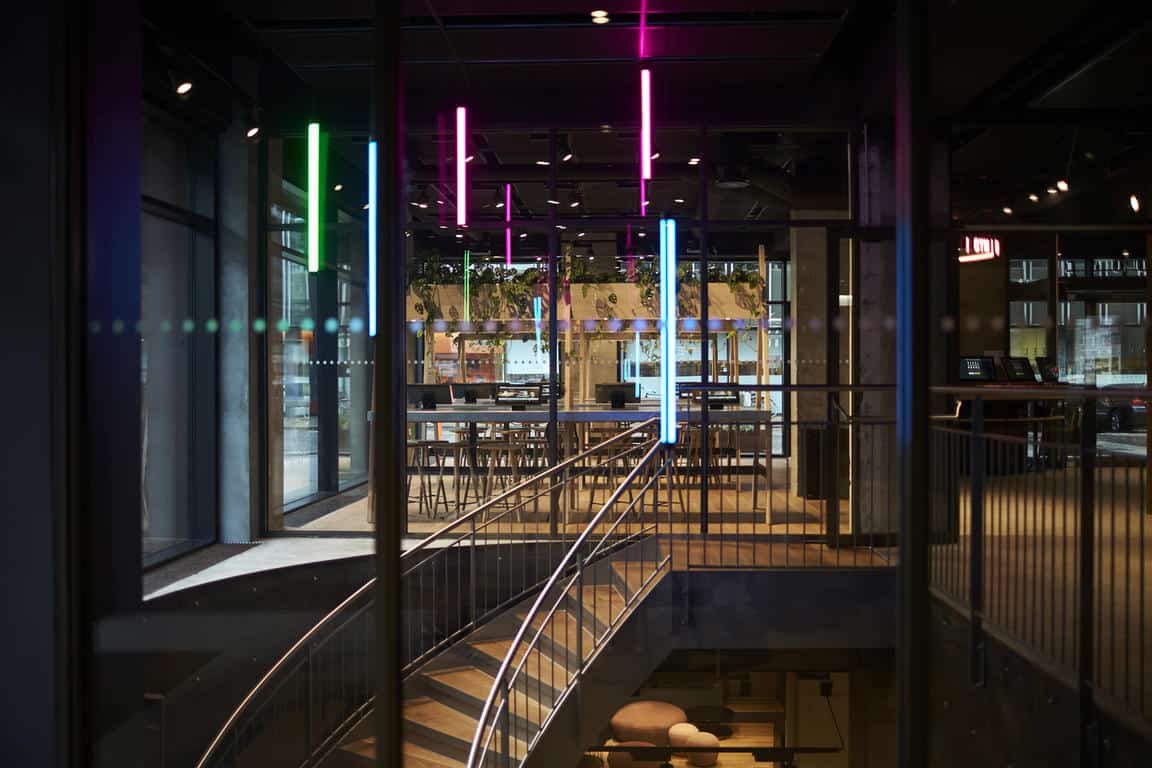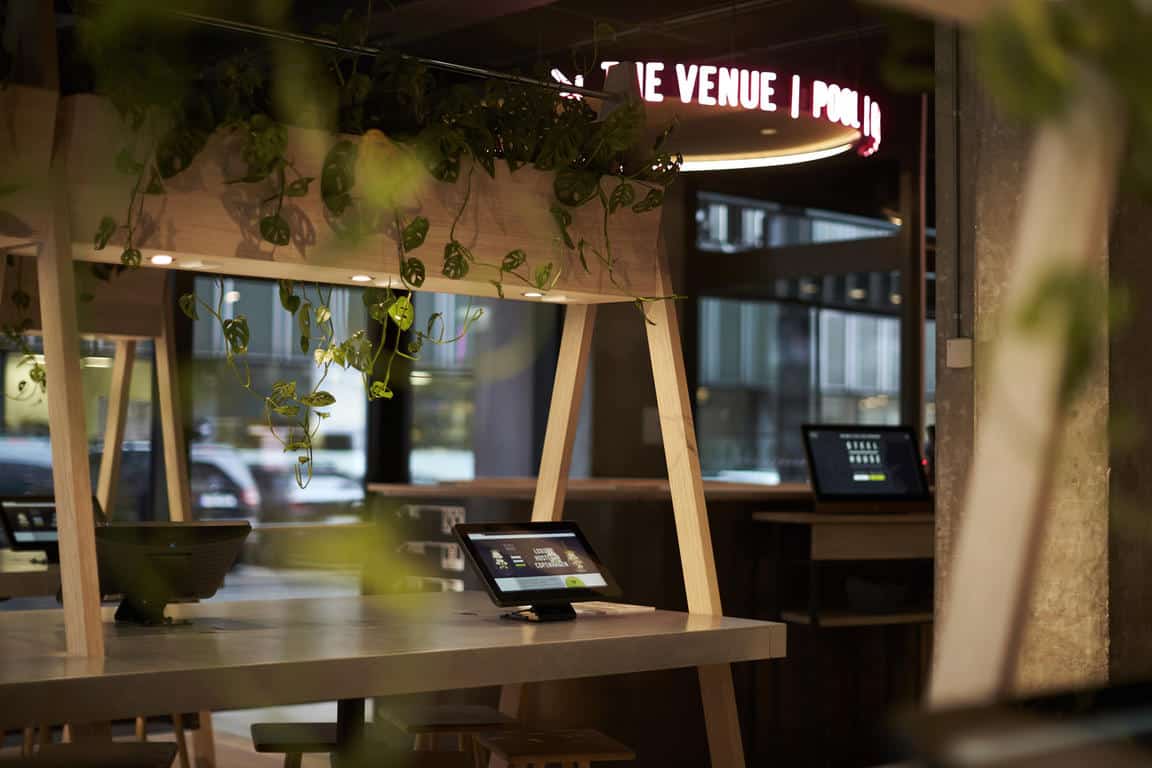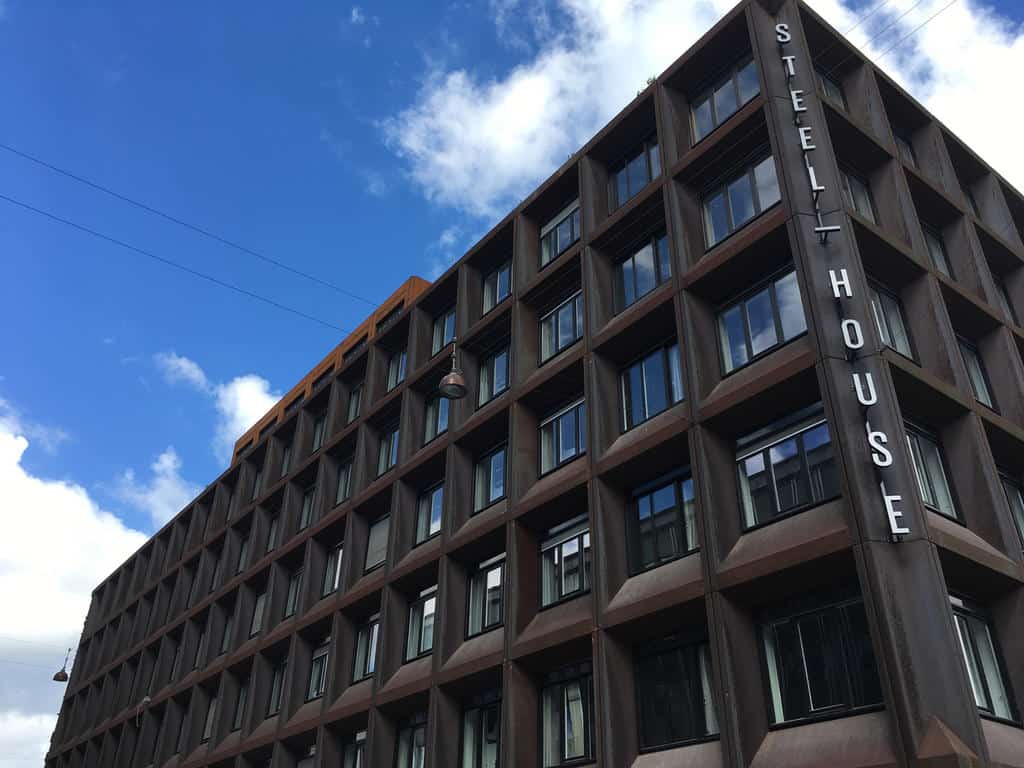 Location – Steel House Copenhagen is a luxury hostel located in the center of Copenhagen. It is a 5-minute walk from Tivoli Gardens, the City Square Hall and the famous shopping street, Strøget.
Theme – One can feel the urban vibe and socialize with people from all around the globe. The setting is imbued with an ingenious aspect of  "industrial chic", with rooms harnessed with raw elements, soft textures, and rustic interiors – a luxurious home-away-from-home that can be tactfully yours the next time you wish to visit Copenhagen.
Value for money –  Though slightly heavy on the pocket, the Steel House Copenhagen is the perfect place to stay. Along with stay, one can enjoy the nightlife. Relish your time with local beer and cold drinks at the bar with free Live music or Karaoke events. If you want to taste the real European food – This is the place!
Why to visit – The perfect ambiance, welcoming staff and the happening crowd makes it a stay worthy place. This luxury city hostel with an urban aura will make you feel posh.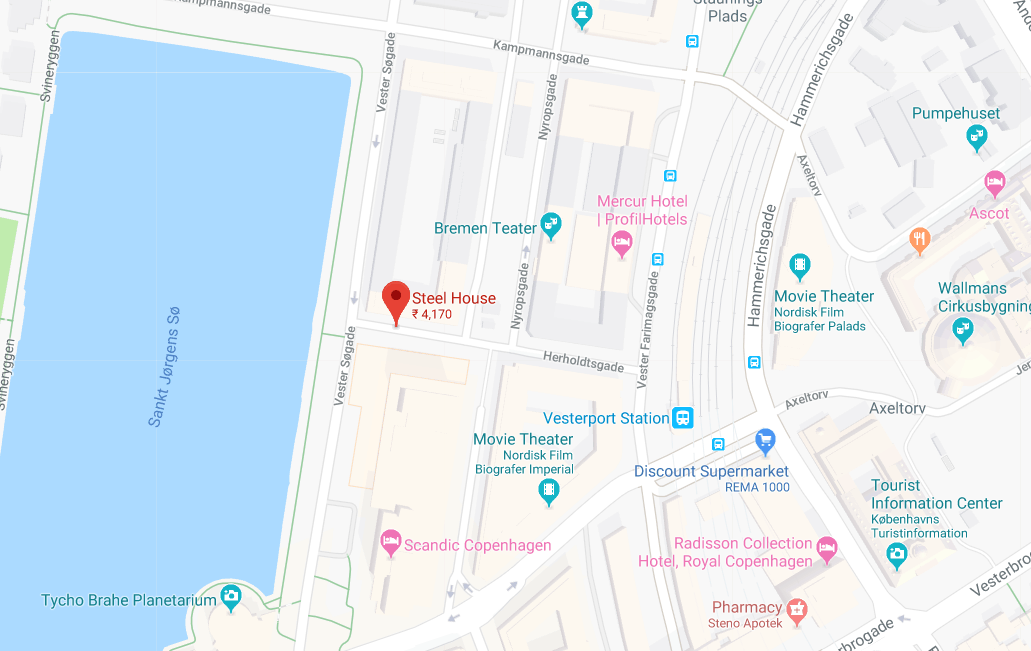 Finland, Helsinki
Euro Hostel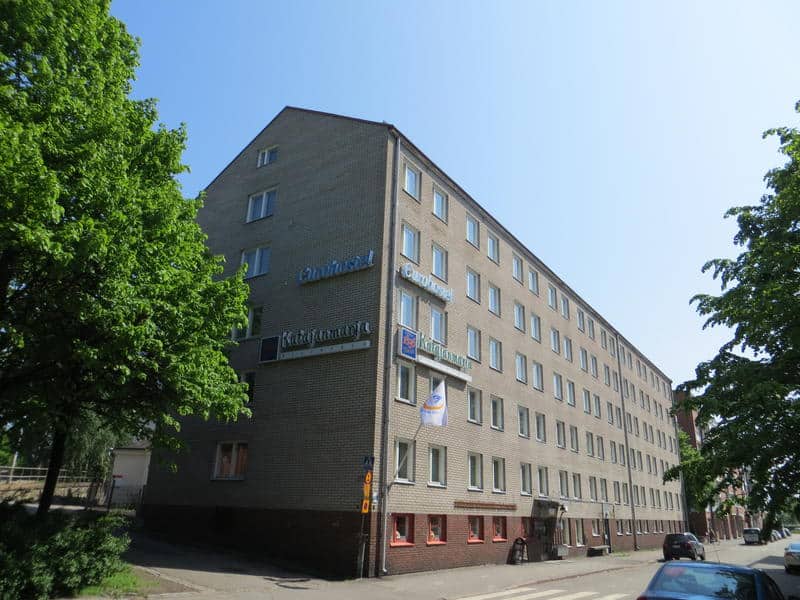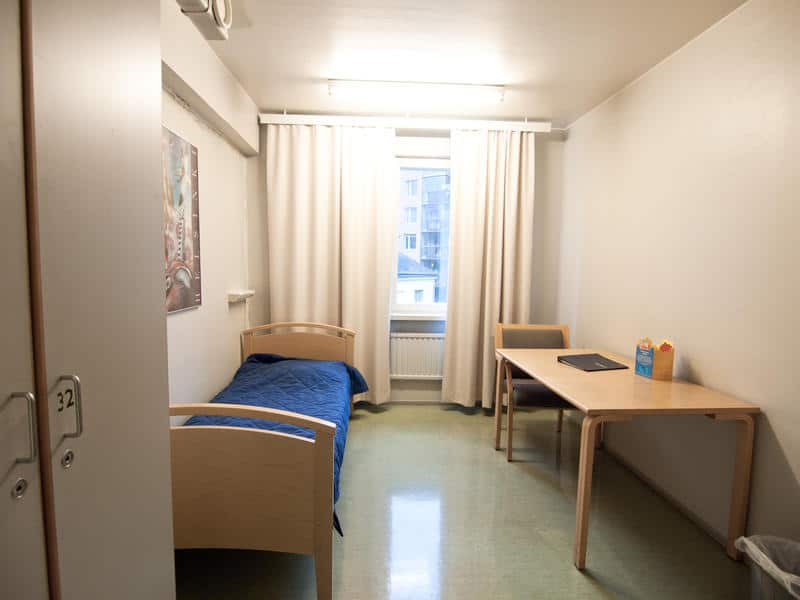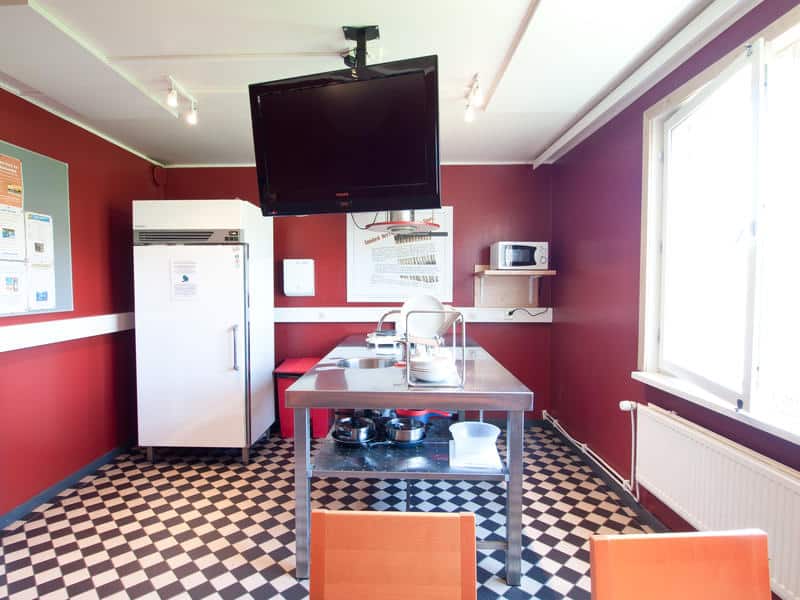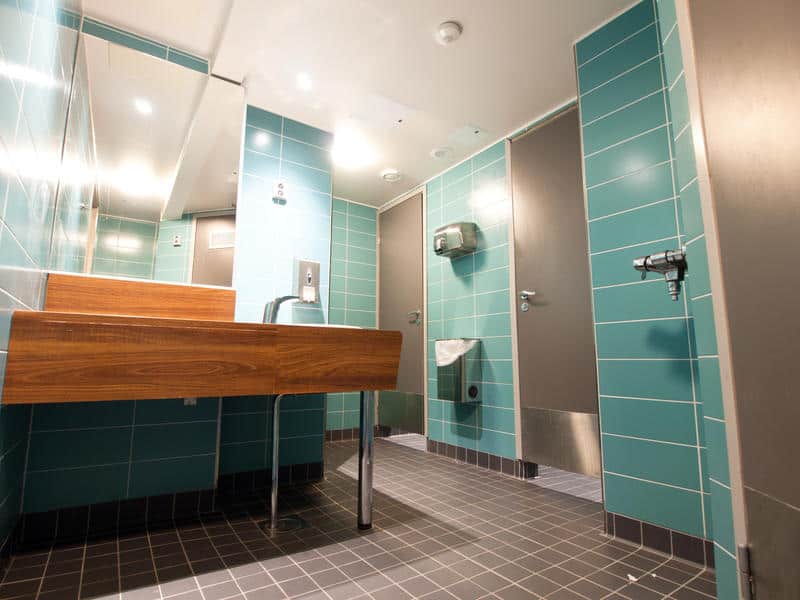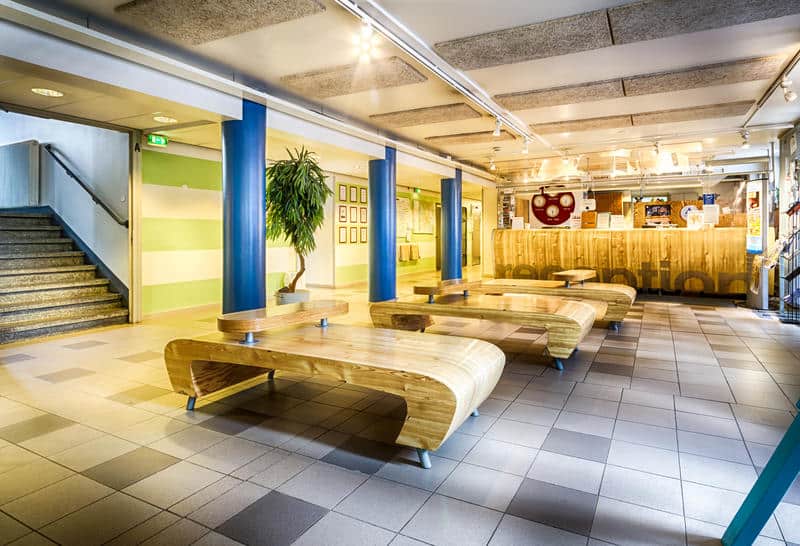 Location –  Eurohostel is located at the heart of the city easily accessible by tram or by foot. Sights, shops, and restaurants of the city center are all within walking distance.
Theme – If you are looking for a traditionally Finnish sauna? This is the place. The guest here experiences the authentic traditional Finnish sauna in modern Finnish setting. Euro Hotel is your friendly Helsinki City Hub!
Value for money – Euro hostel is completely non-smoking. They have dormitory beds, single, twin and triple rooms. Eurohostel rooms are well renovated and equipped with international TV with movie channels. Wireless internet is also available in the property for free. Its definitely a worth staying here.
Why to visit – Wonderful Location, Superb staff, excellent cleanliness is one of the reasons to visit this place. Bicycle rentals, tourist transport tickets, tickets to main attractions in Helsinki and more services are available at the reception.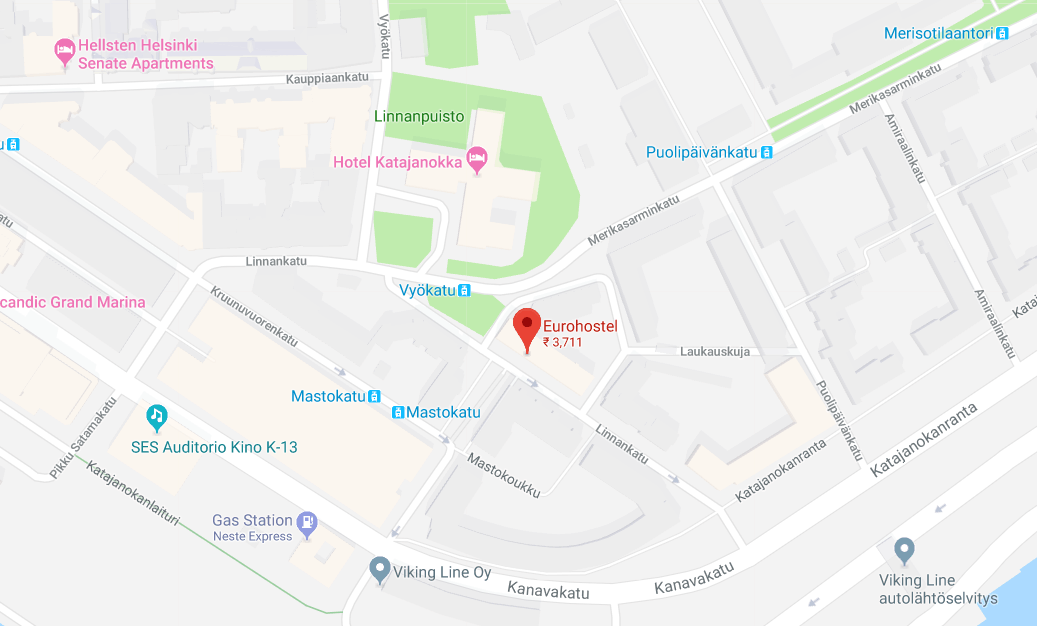 ---
The Yard Hostel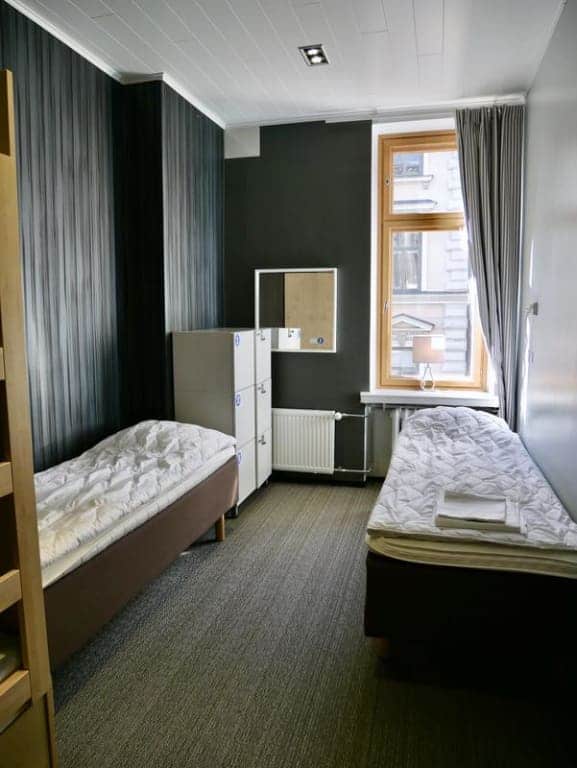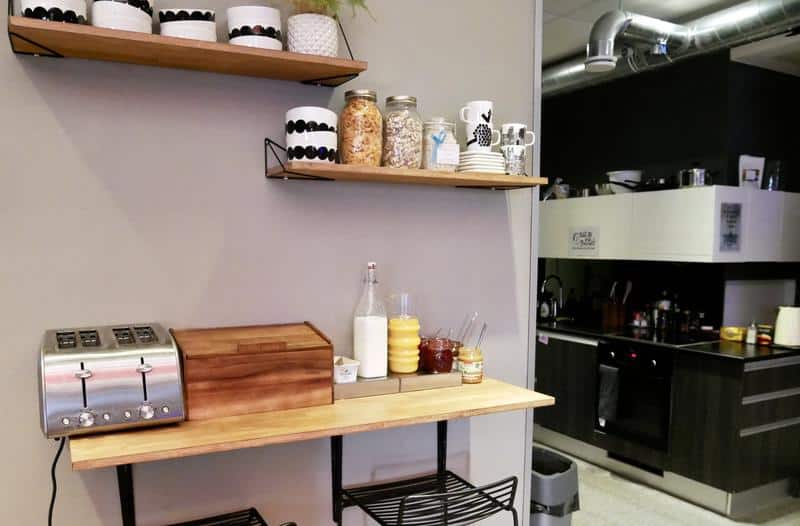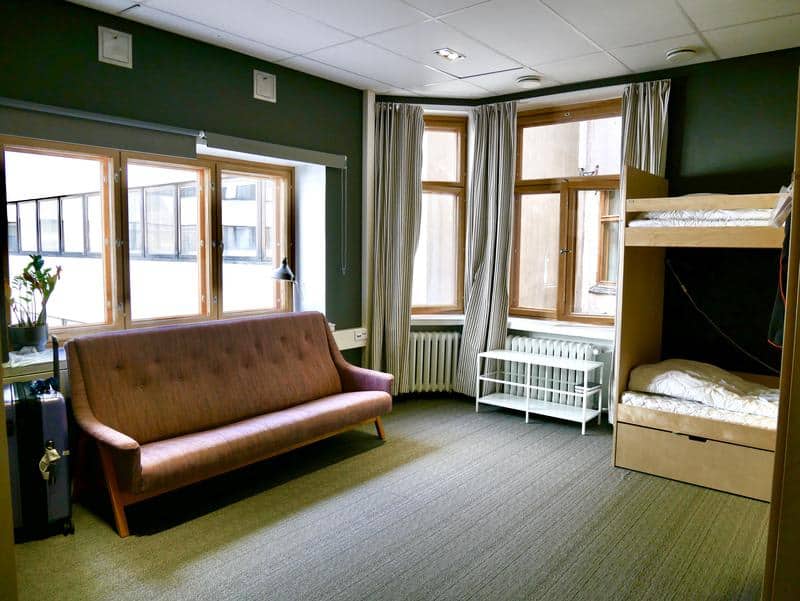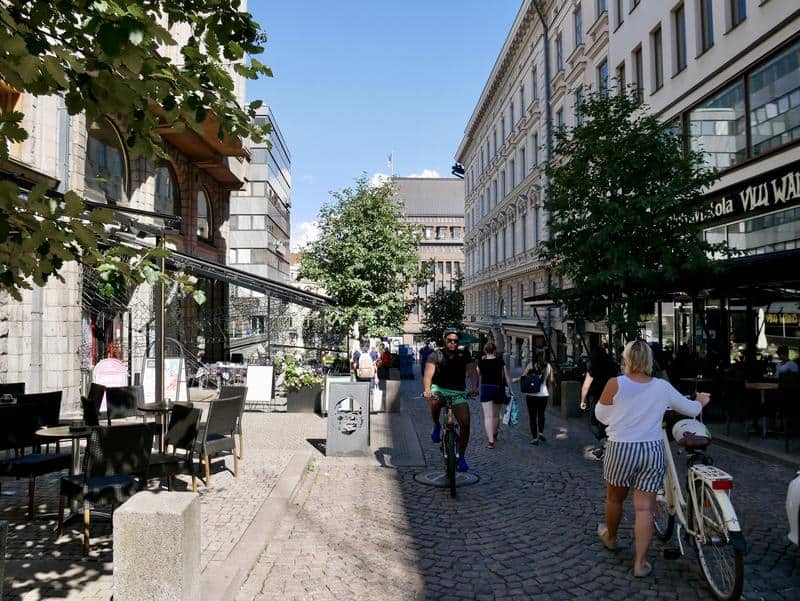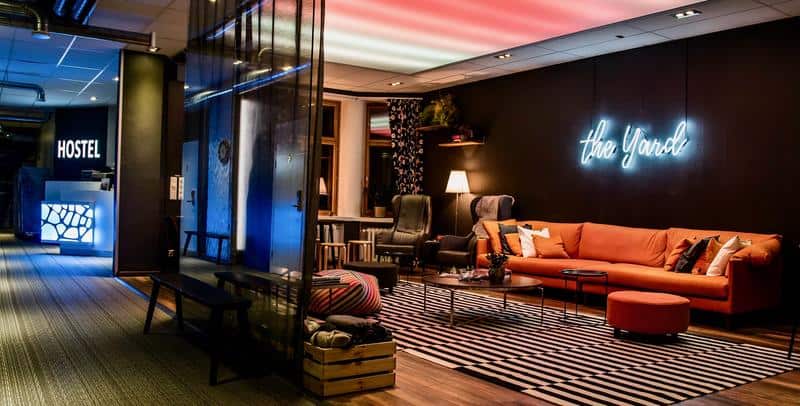 Location – The Yard Hostel is located near bars, restaurants, shops, and sights. Famous department store Stockmann is just next door and there is a short walk to Central Railway Station. Kallio, the chic lifestyle of Punavuori or the parks and nature surrounding the city are within just 15 minutes reach of The Yard.
Theme – The Yard is the first concept hostel in Helsinki and the Best Hostel in Finland for the year 2018. Its a place where one is always welcomed and valued. It focuses on Finnish design and local art with a touch of the urban jungle. This iconic building was built in 1912. They have a large lounge where one can hang out with friends.
Value for money – Perfect location, superb staff, fantastic cleanliness makes your stay worthy. They provide both private rooms and dorms. They also offer a large lounge where you can hang out with your friends or make new ones. Plus free Wi-Fi is an added cherry on a cake.
Why to visit – The Yard is your home away from home, a place where you will always feel welcome and valued. The goal is to make everyone walk through our doors fall in love with Helsinki by helping them get the best possible experience of Nordic Capital. One feels right at home in the relaxed and cool ambiance of THE YARD.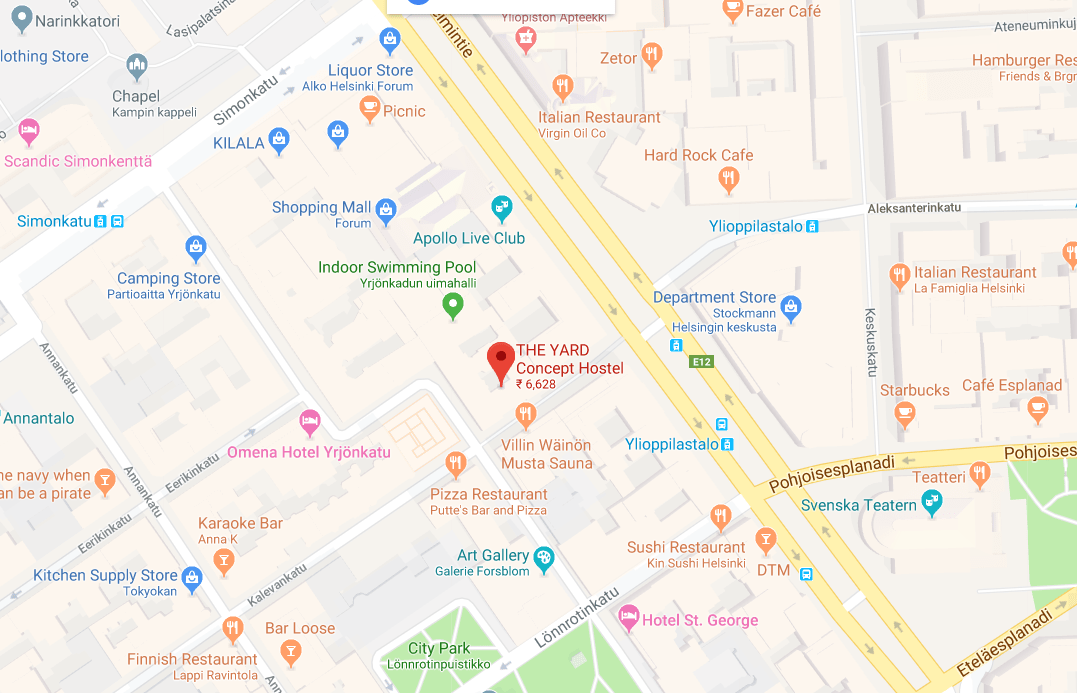 ---
Cheap Sleep Hostel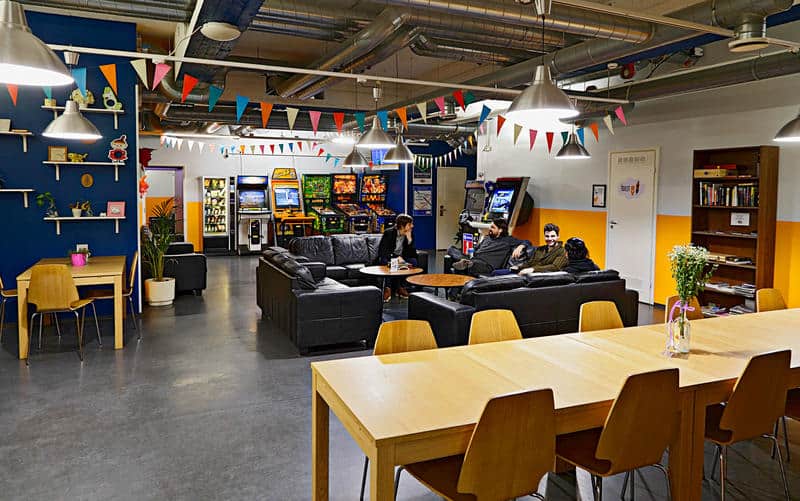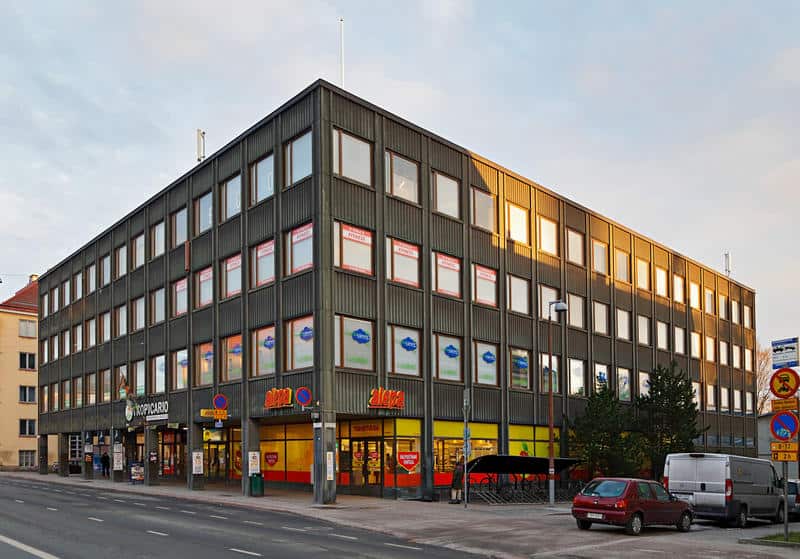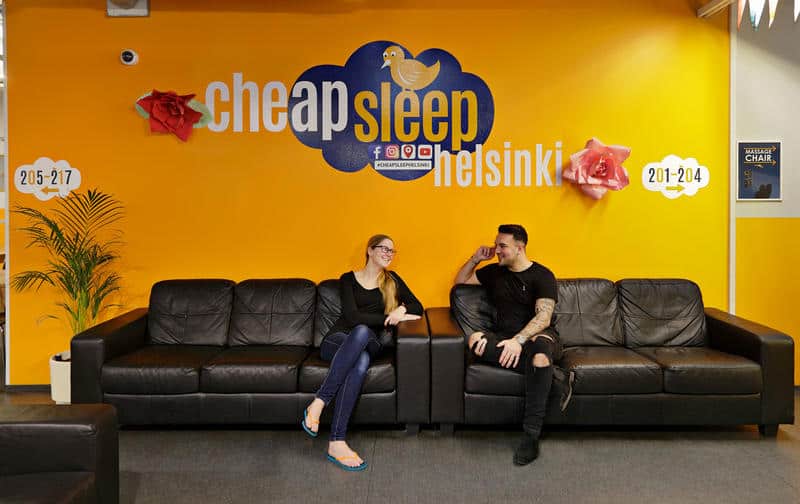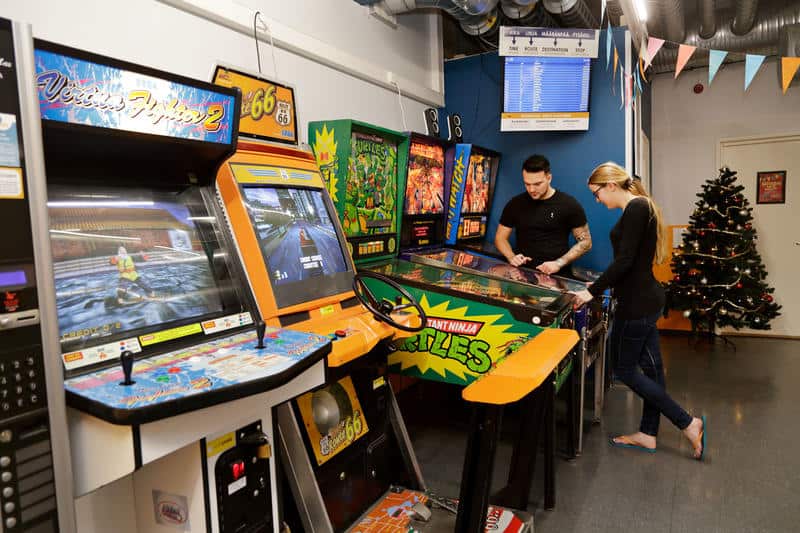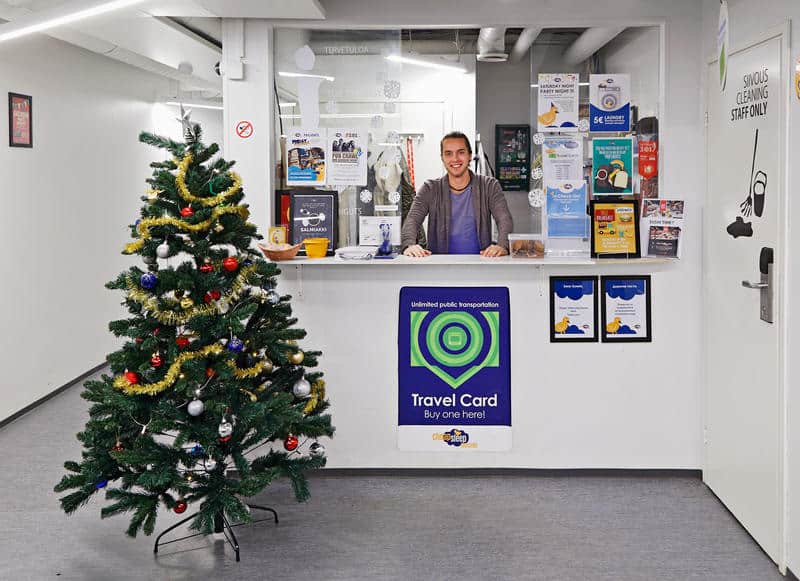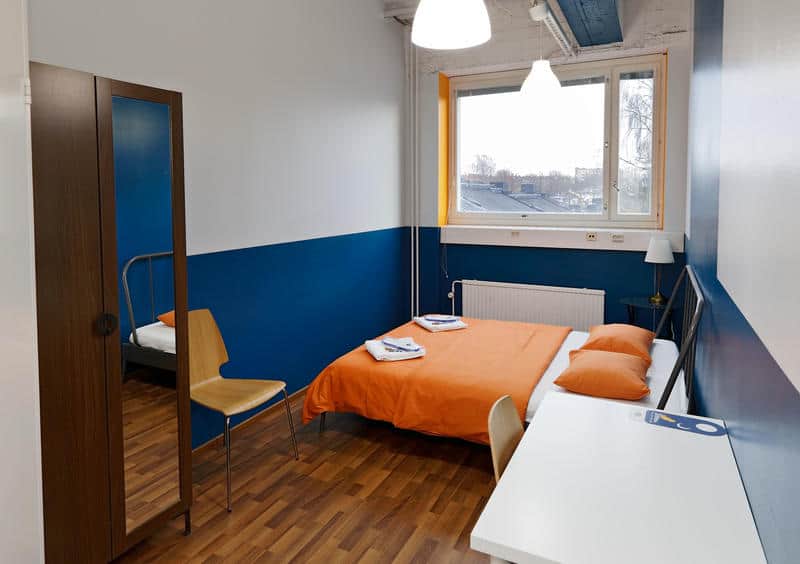 Location –CheapSleep Hostel provides a most conducive spot for you to take a break from your busy days. The hotel is not too far from the city center: just 2500 away, and it normally takes about 30 minutes to reach the airport. A destination of rest and relaxation, the hotel will offer total renewal such as MysticALArt, Paavalin Church (Paavalin Kirkko), Pieni Leffakauppa.
Theme – The facilities and services provided by CheapSleep Hostel ensure a pleasant stay for guests. A large common room is a key to what makes Cheap Sleep a fun, relaxed and social place to stay. The hostel has a fully equipped kitchen and a dining area next to the common room, also there's a supermarket on-site.
Value for money – The hotel provides free Wi-Fi in all rooms, wheelchair accessible, kitchen, ticket service, 24-hour front desk to ensure our guests the greatest comfort. Totally renovated with free wifi to all rooms, you'll find Cheap Sleep Helsinki a great place to get some sleep and meet interesting fellow travelers passing through Helsinki.  Besides, the hotel's host of recreational offerings ensures you have plenty to do during your stay. Whatever your purpose of visit, CheapSleep Hostel is an excellent choice for your stay in Helsinki.
Why to visit – Great location, marvelous staff, and excellent staff are one of the reasons to visit CheapSleep. Bonus: Free for every guest! CheapSleep offers a continental buffet featuring bread, cheese, ham, jam, porridge with cinnamon and cardamom and coffee and tea. Breakfast is served between 7 and 10 every day.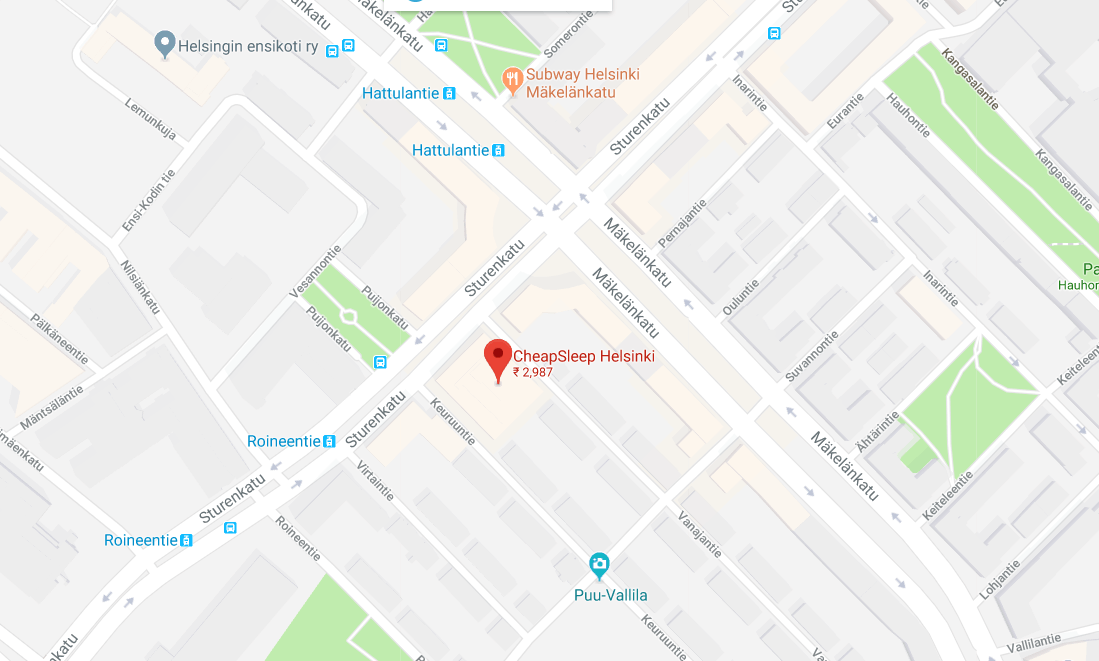 Iceland, Reykjavik
Laekur Hostel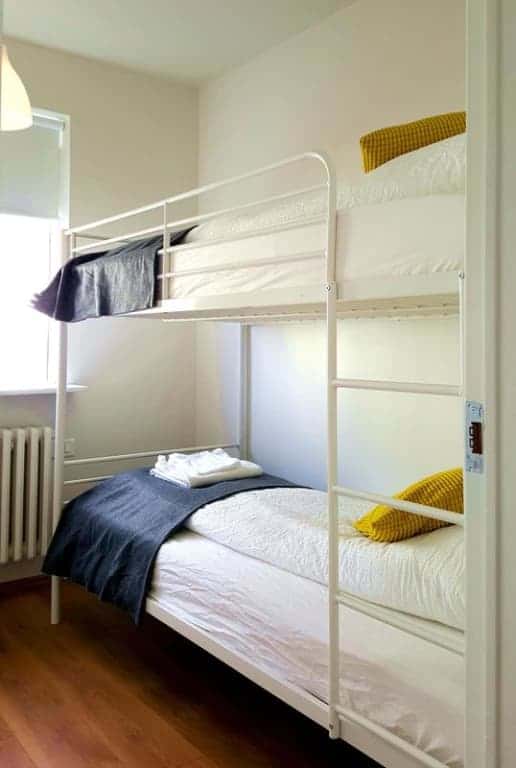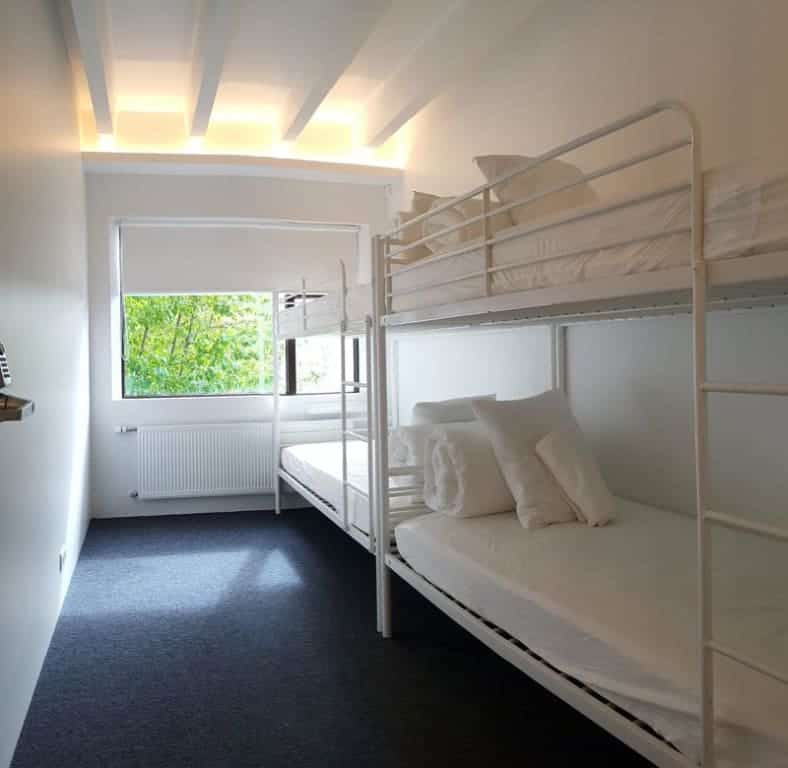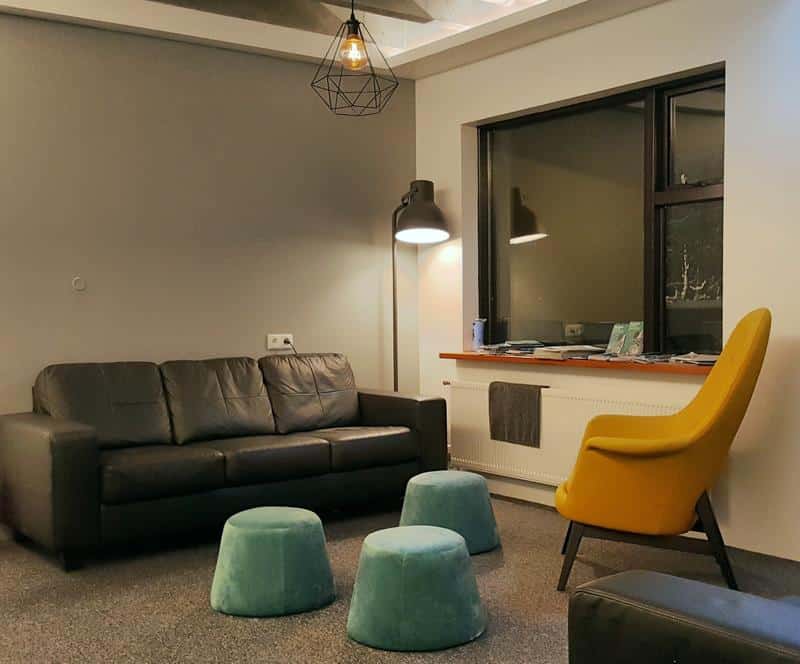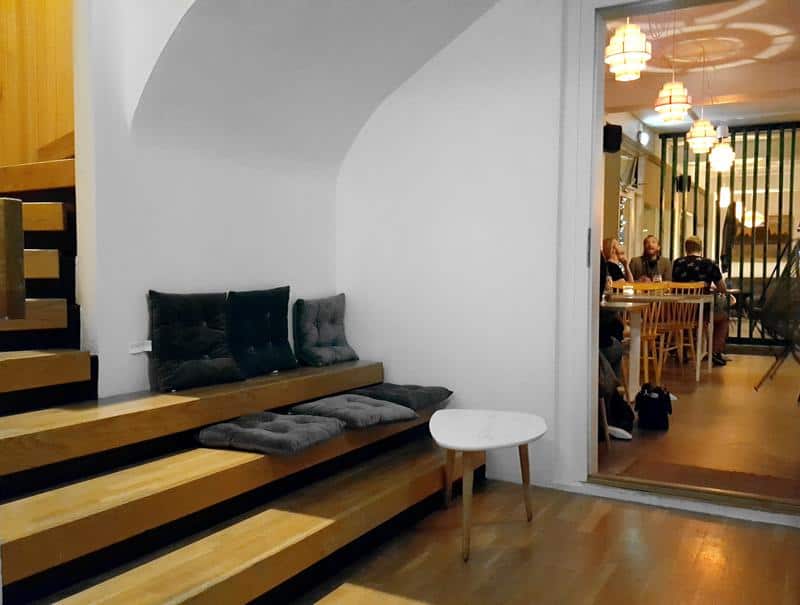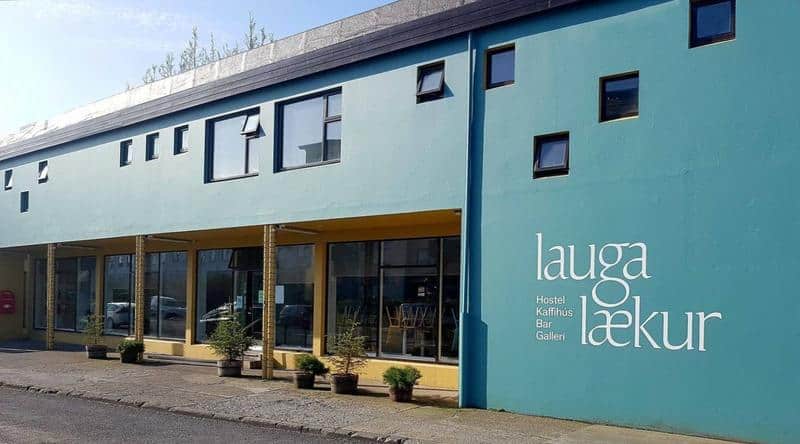 Location – Laekur hostel is located in the center of Reykjavík city. Only a few steps away from Laugardalur. The Laugardalur area is the ancient geothermal hotspot of the city. We are located in one of the most privileged areas of the city, near to some of the finest landmarks such as Laugardalsvollur Stadium, The Icelandic Phallological Museum, National Museum of Iceland and Sólfarið – Sun Voyager, amongst other renowned spots of the city.
Theme – Laekur Hostel is based on Nordic themes having Nordic-style rooms for families, couples and individuals.
Value for money – Along with a restaurant, this hostel has a bar/lounge and a coffee shop. WiFi in public areas is free. Additionally, a microwave and fridge in a common area and free newspapers are on-site. Providing such facilities at cheap rates makes Laekur a place to visit again.
Why to visit – Great location, marvelous staff, and fantastic cleanliness are surely one of the reasons to visit the hostel again. Apart from this, they have several common areas where the guests and travelers will be able to get together and exchange past experiences and future plans.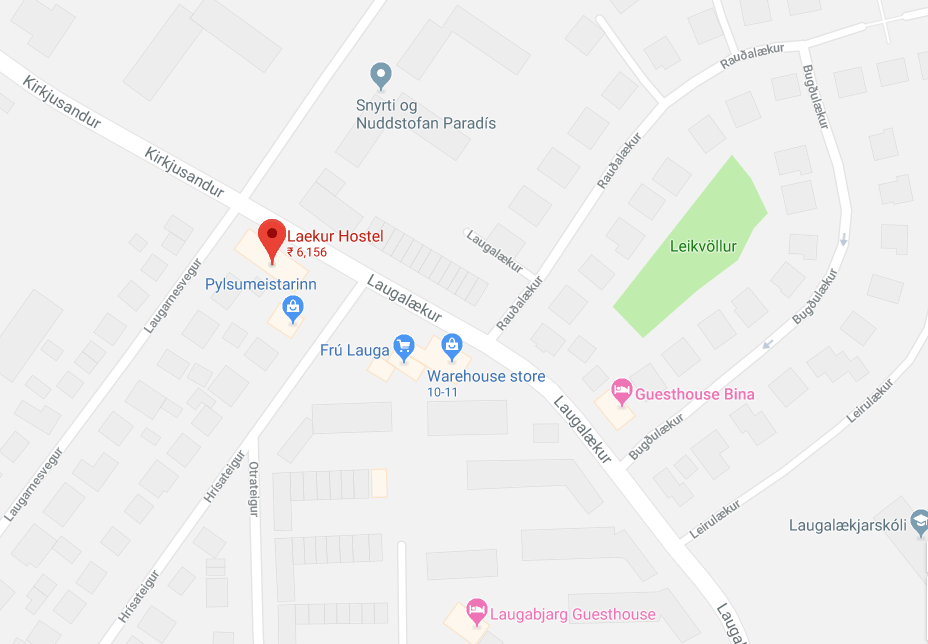 ---
Galaxy Pod Hostel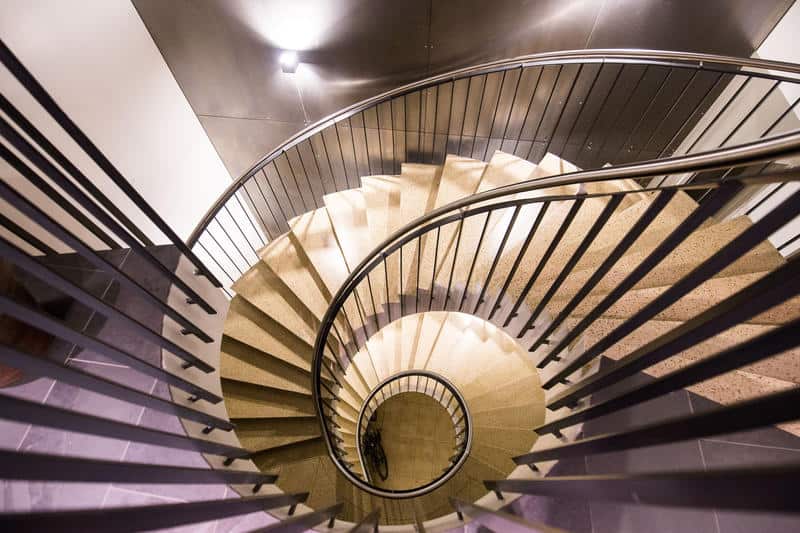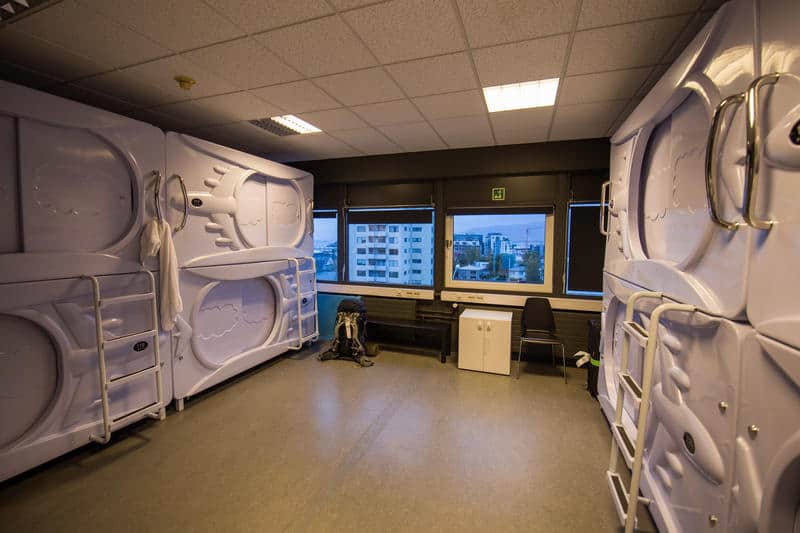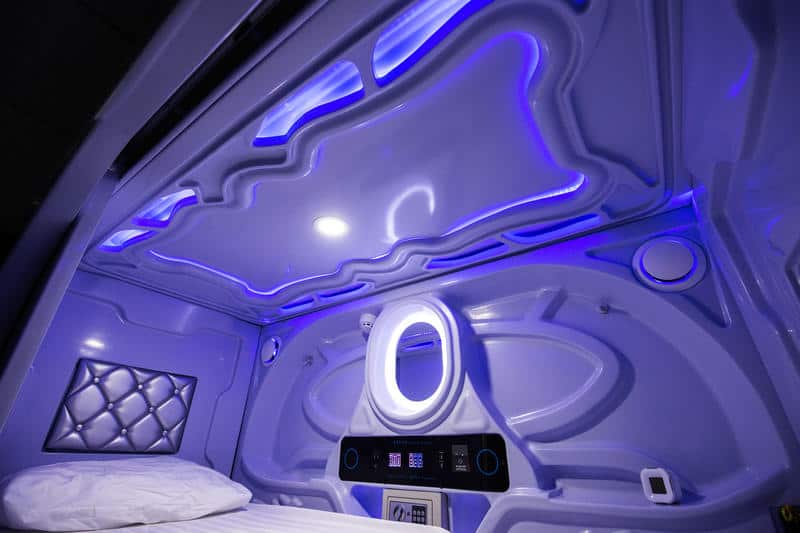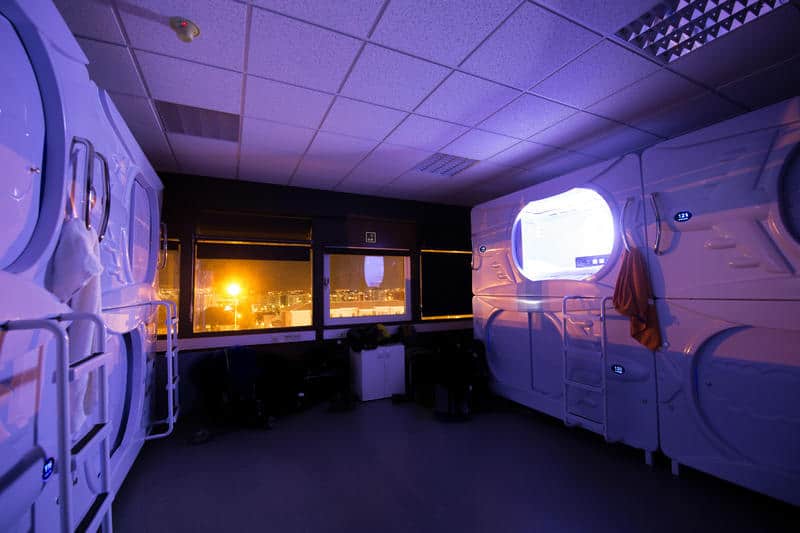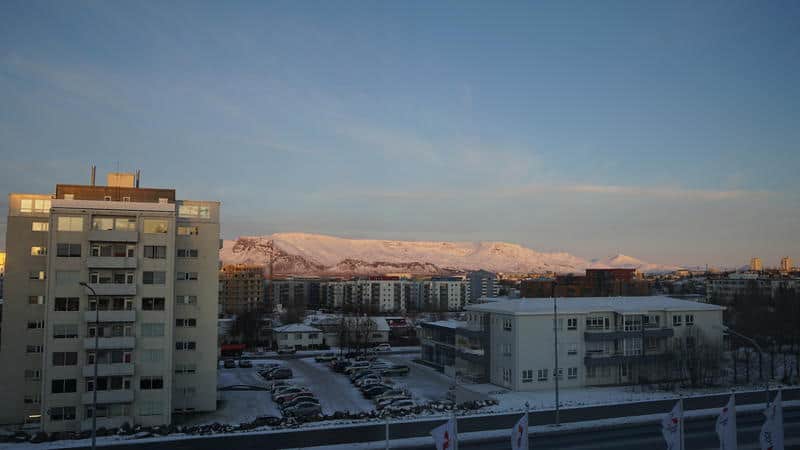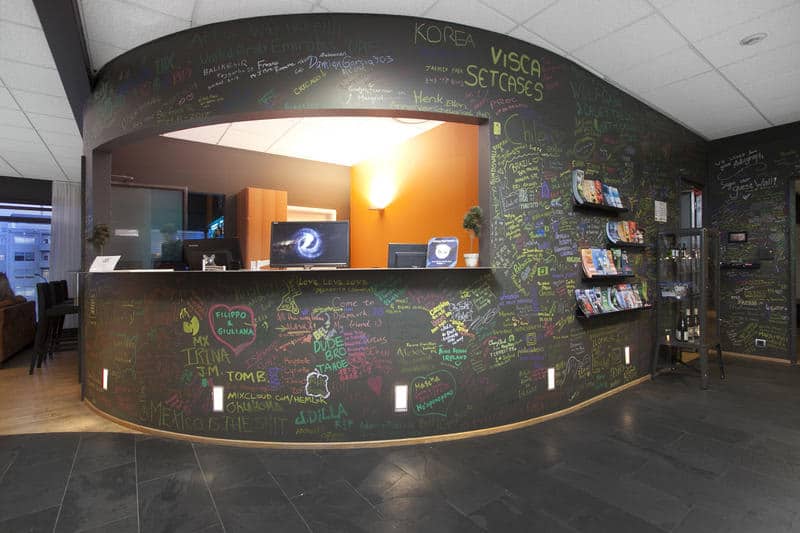 Location – Galaxy Pod Hostel is located in downtown Reykjavik. This hostel is within 2 km of Laugavegur, Hallgrimskirkja and Perlan, about a 15 min walk away. Reykjavik City Hall and National Museum of Iceland are also within 3 km.
Theme – The hostel offers Space Pods instead of regular bunk beds in shared dormitories. They do have an amazing social lounge and a movie room. Enjoy the movie room, bar, and social lounge while you explore the landscapes. The Pods are super comfortable, private and loaded with amenities such as security boxes, alarm clocks etc. This is one of the perfect options for backpackers, families, and groups
Value for money – The Galaxy Pod Hostel is for the one who wants more for less! The super comfortable pods, a self-service kitchen where one can buy sandwiches and drinks from a vending machine, and a friendly environment are one of the reasons to pay for.
Why to visit – Access to 24/7 convenience shop, wonderful location, super staff, comfortable space pods, access to restaurants and bars at cheap prices is one of the reasons to visit Galaxy Pod Hostel.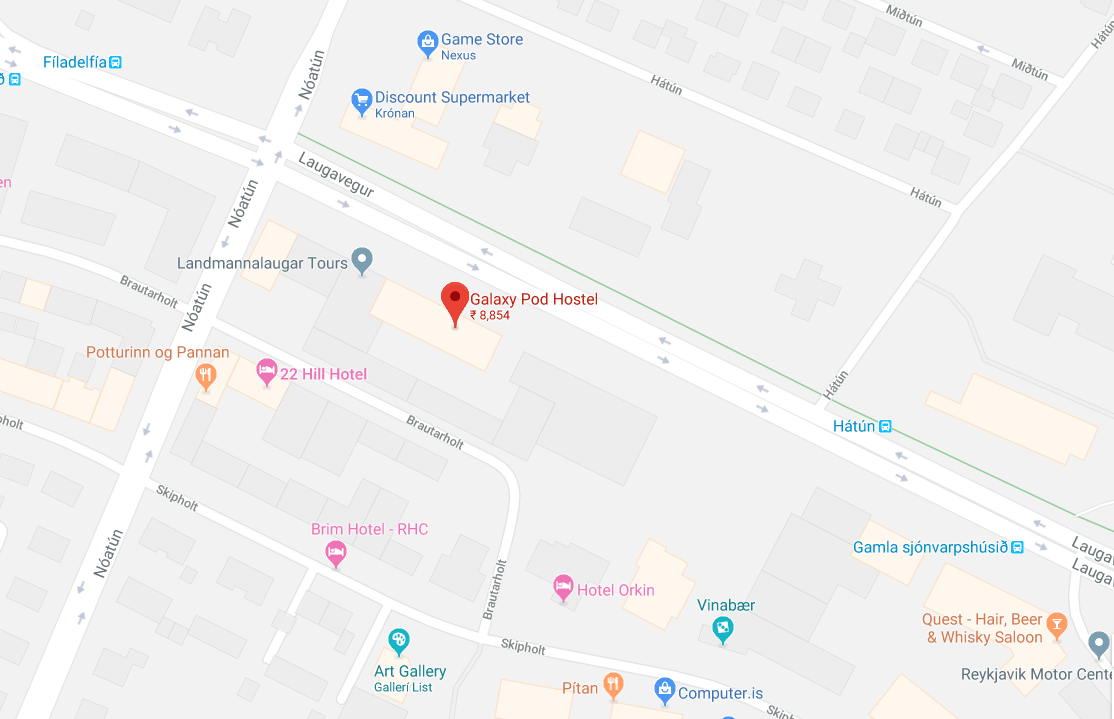 ---
Oddsson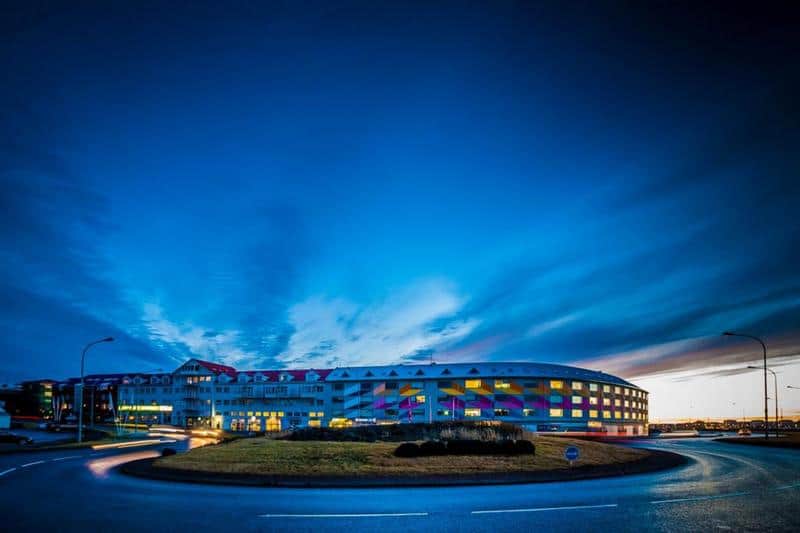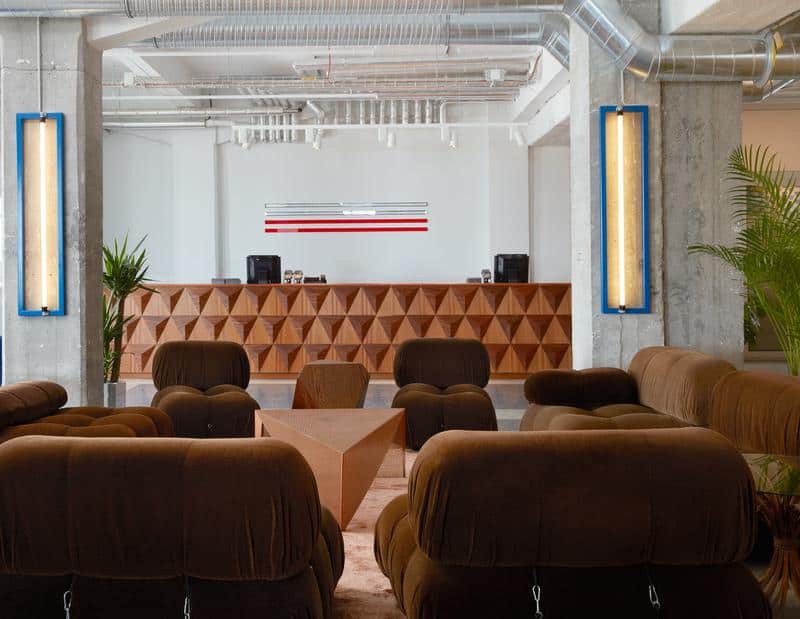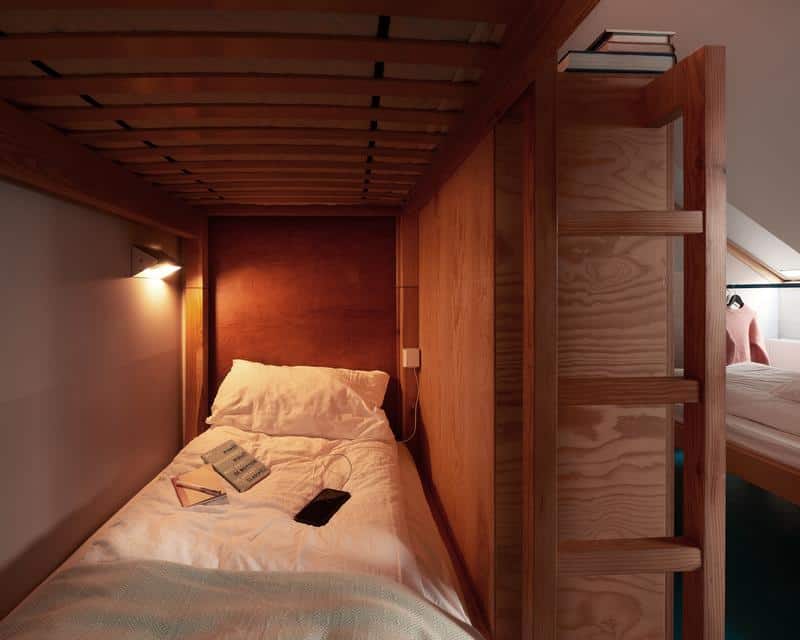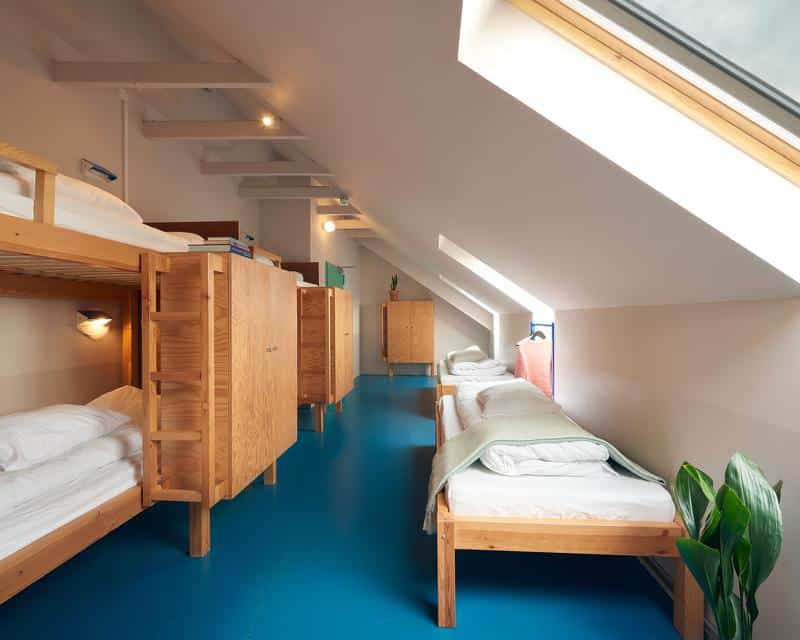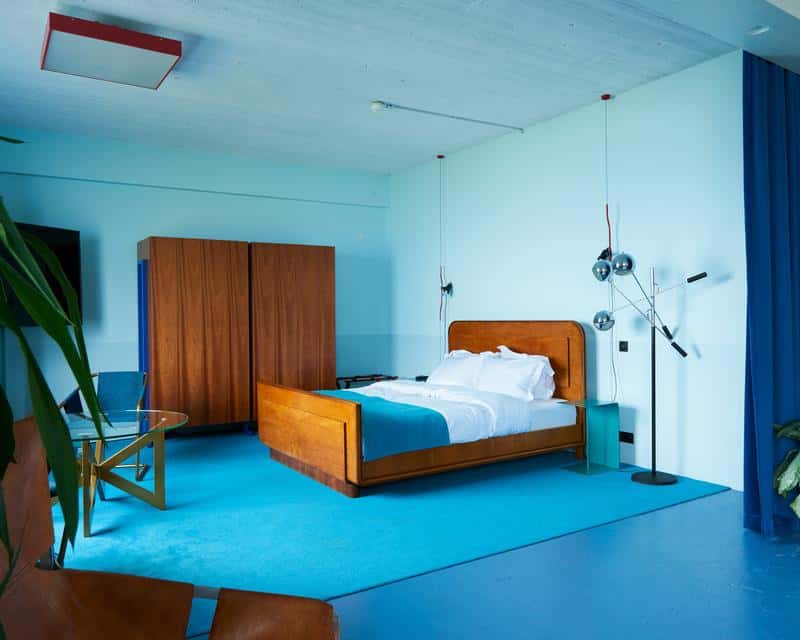 Location – If you feel like exploring the city, then visit Laugavegur high street which is about 1.7 km away from the hostel and the National Museum of Iceland is 1.1 km away. The Reykjavík Domestic Airport is 3 km from ODDSSON.
Theme – Philosophy is: Joie de vivre. Oddsson is all about diversity. The idea behind Oddsson is taking extremes and mixing them together. Their inspirations are the atmosphere of an airport. It is a space of diverse encounters where times passes slowly. Oddsson is for people with expensive taste.
Value for money – Oddsson is for people with expensive taste at fair prices. Oddsson's Bazaar is an Italian restaurant, café, and bar, all in one place where people can socialize and meet new or old friends. The restaurant offers authentic Italian food at reasonable prices.
Why to visit – The funky vibe with artwork on the walls from local and international artists, a mingling bar and karaoke room are remarkable and must visit thing which makes Oddsson a place to visit once. Situated in the best-rated area of Reykjavik, this hostel is encounter diverse crowd with the passage of time.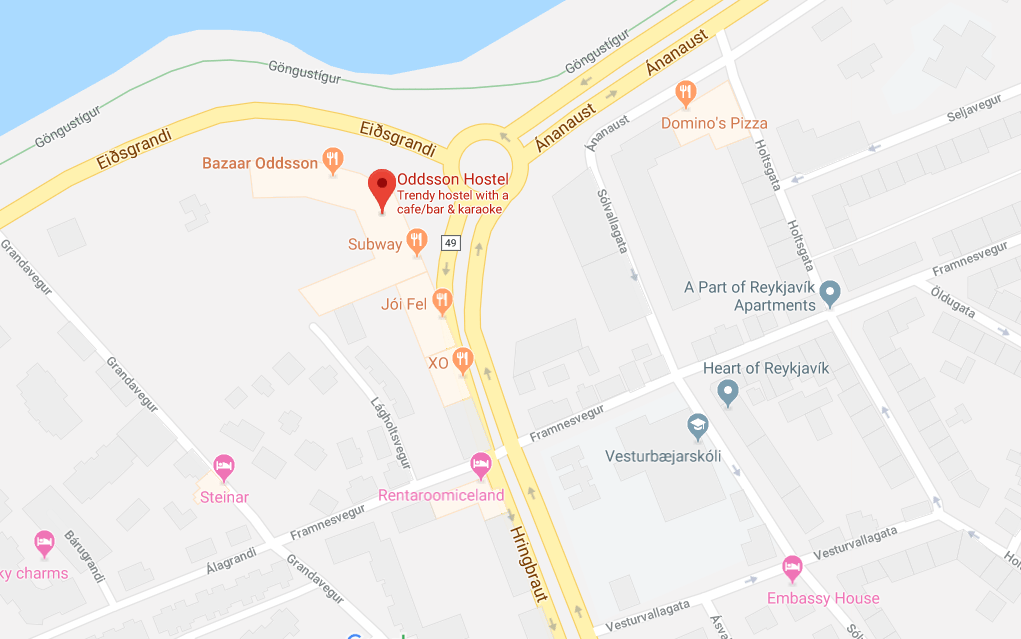 Norway, Oslo
Saga Poshtel Oslo Central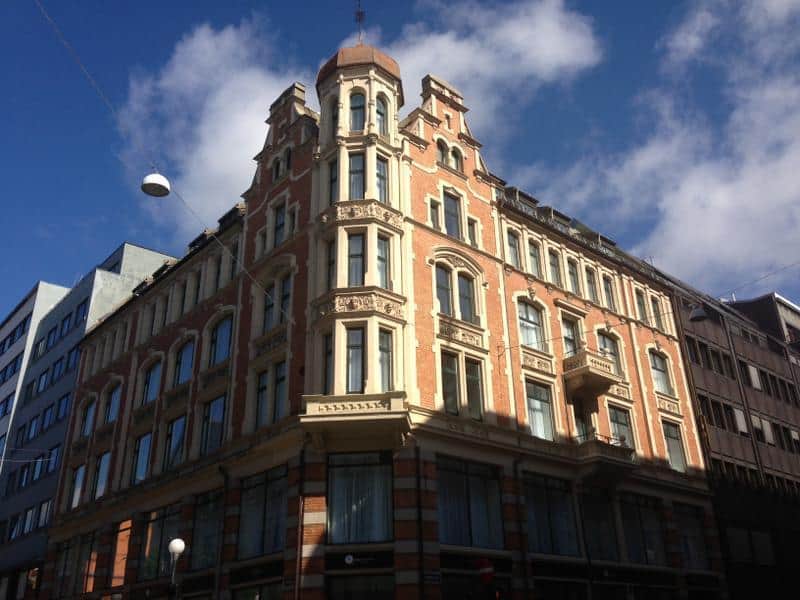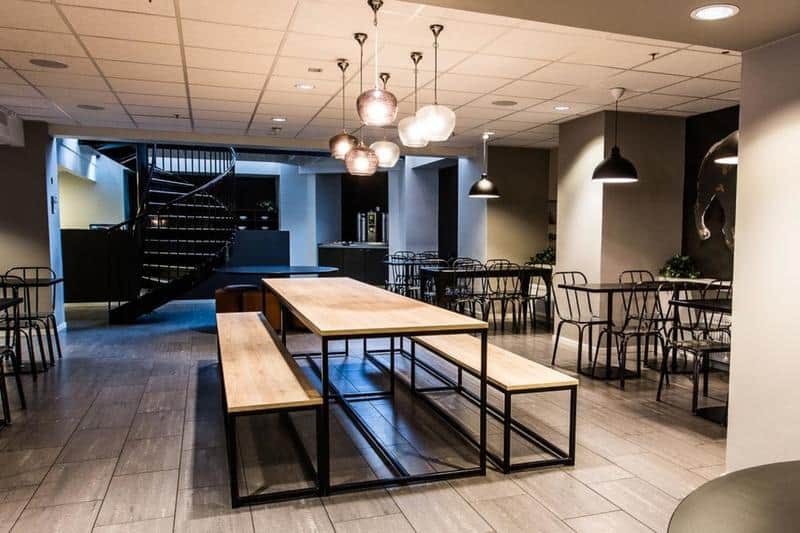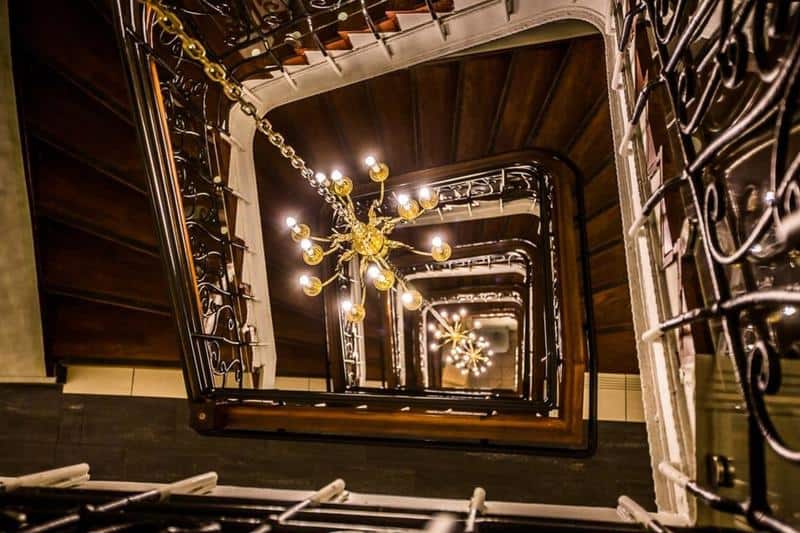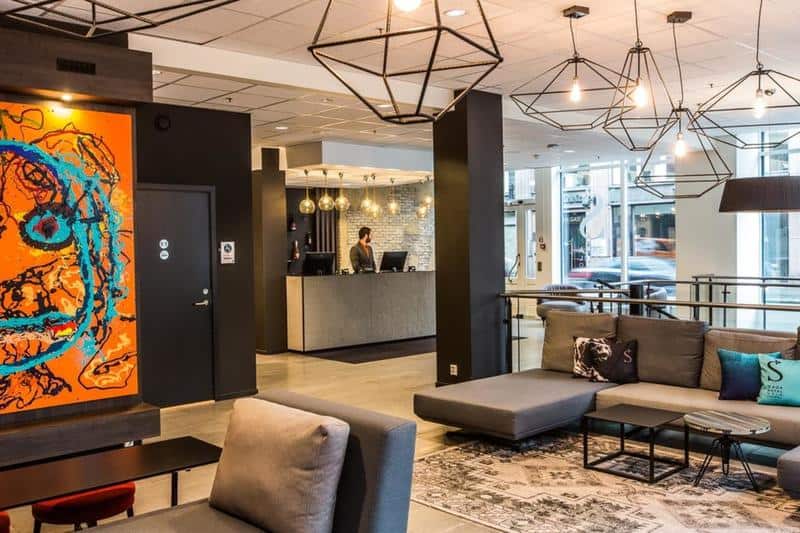 Location – Saga Poshtel Oslo is located in Oslo City Centre, a 10-minute walk of Mini Bottle Gallery, Karl Johan Street and Parliament. From here you have access to all forms of public transport, which are just a few minutes' walk away in either direction. Oslo Cathedral and Oslo City Hall are also within a distance of 10 minutes. Dronningens Gate Tram Station and Christiania Torv Tram Station are within a 5-minute walk. Also one can have unlimited access to shopping, restaurants, bars and nightlife.
Theme – An entirely new concept, Saga Poshtel gives you a trendy, chic, vibrant and homely atmosphere. Newly renovated, with art facilities and modern décor, Saga Poshtel is a perfect place for backpackers, families, and for everyone who is looking to relax and feel at home.
Value for money – 24/7 available staff, high customer service, perfect location, amazing ambience, excellent cleanliness makes your stay worthy.
Why to visit – The hostel offers a lot of facilities such as open lobby to cosy and artistic living area. All of this provides peace of mind and tranquillity. It also provide chance to meet like-minded folk in there restaurants and bars.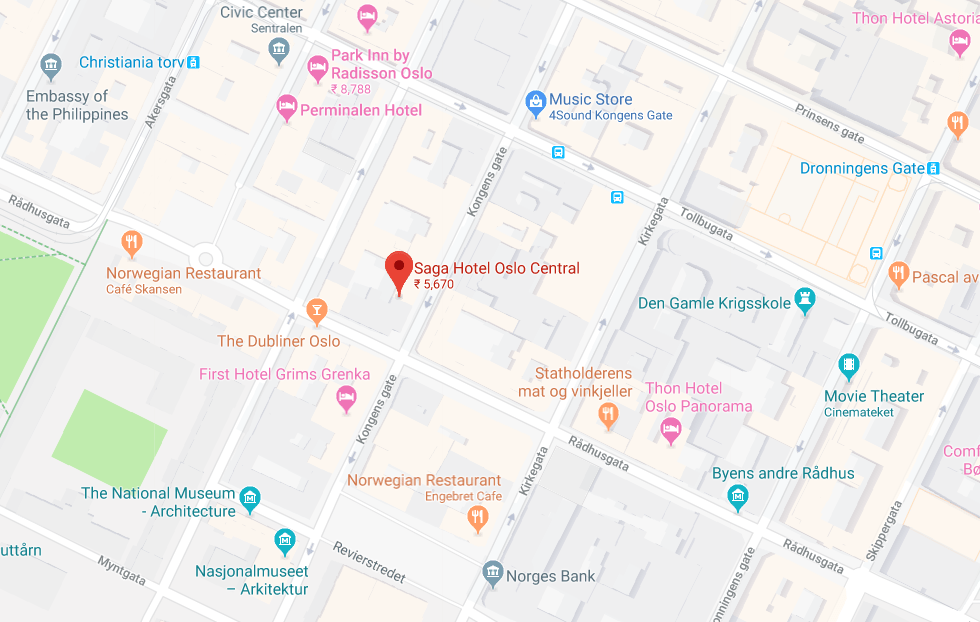 ---
Oslo Youth Hostel Haraldsheim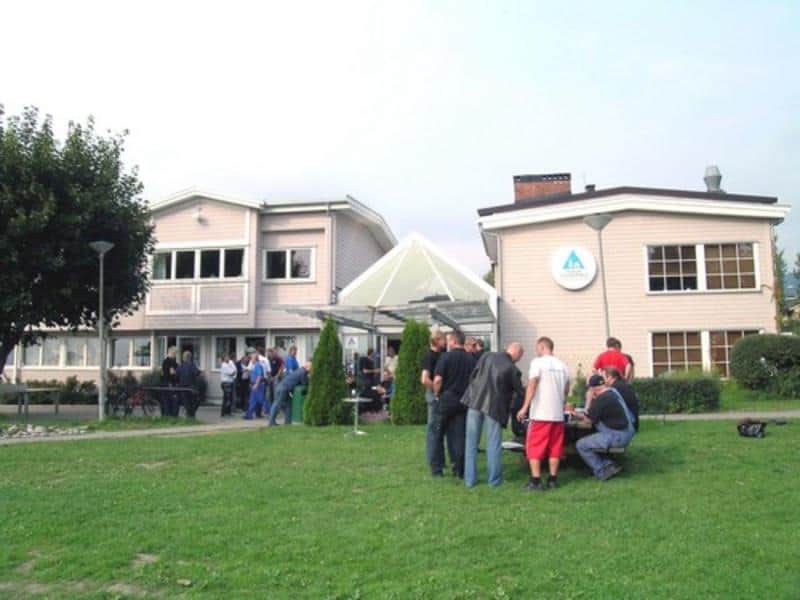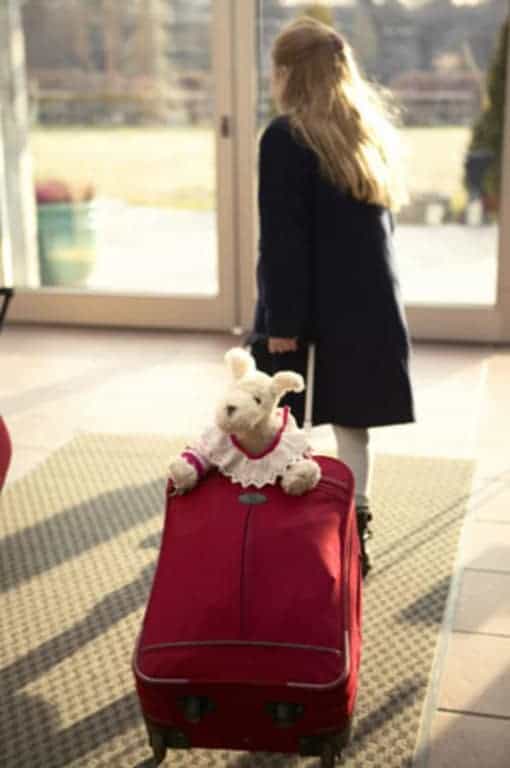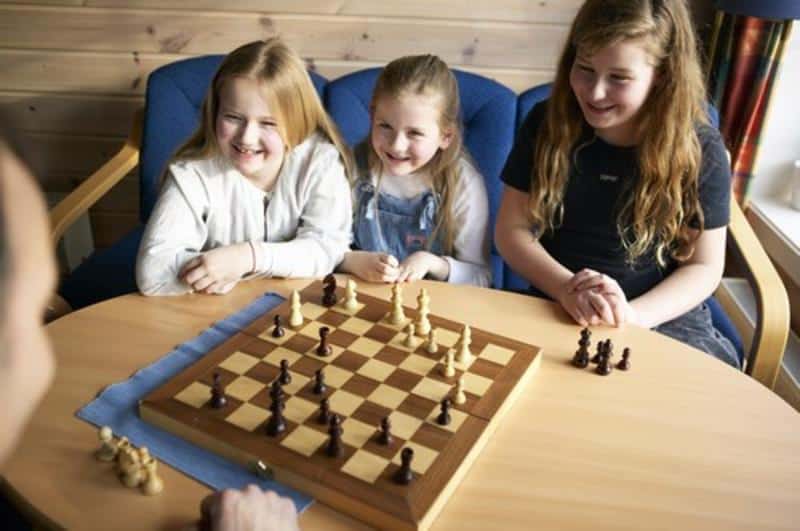 Location – Oslo Youth hostel is surrounded by the greenery of Oslo's Grefsen with splendid views of the city and the Oslo Fjord, just 4 km from the city centre. The Norwegian Museum of Science, Technology and Medicine is a 6-minute drive from the hostel. Ullevål Stadium and Oslo Ski Centre are just 2 km away.
Theme – Oslo Youth Hostel guest room features wooden floors, simple décor and a work desk. The hostel is based on simple yet comfort theme. The simple décor makes you feel like home stay.
Value for money – The property is rated for the best value in Oslo! Guests are getting more for their money when compared to other properties in the city. The hostel provides a lot of amenities such as Communal rooms at the hostel include a TV lounge, as well as a library with a billiards table. Laundry room is also available at hostel. Outdoor furniture can also be enjoyed in cool weather. Overall Oslo hostel is a win-win deal.
Why to visit – Amazing coffee, centralized shopping area, Laundry facilities, a 24-hour front desk, library, free newspapers and tour/ticket assistance. Small lockers,special lockers for your Lap Top and bigger lockers for your backpack ( use your own padlock ) all these facilities are provided at reasonable prices which is one of reason to visit this amazing hostel.
---
Anker Hostel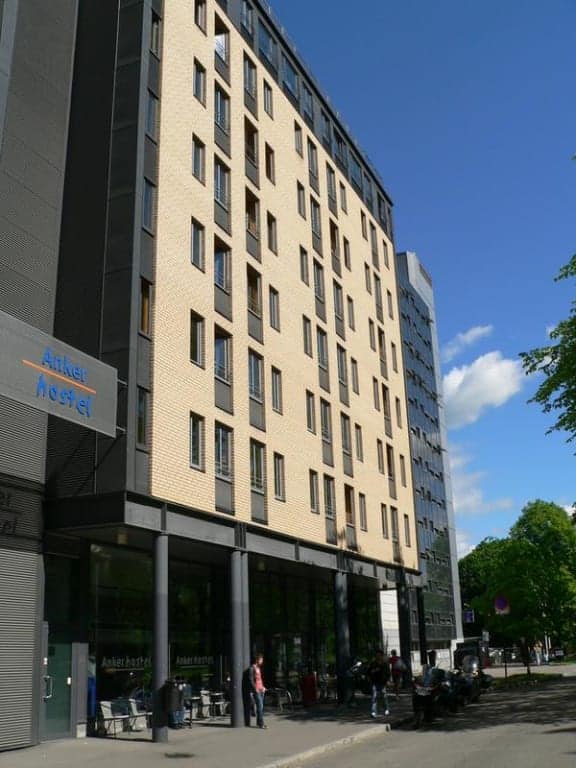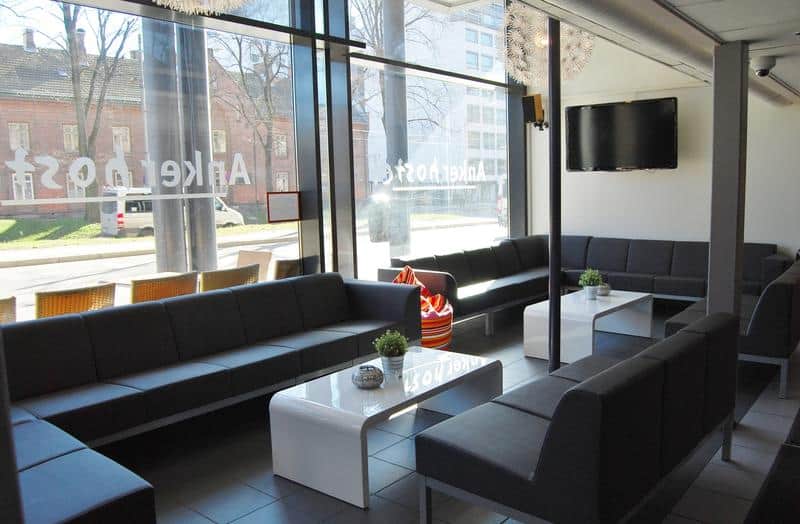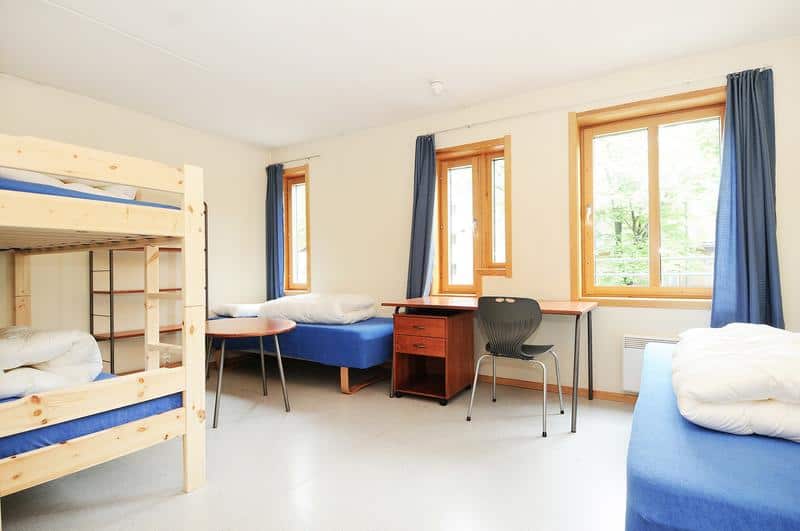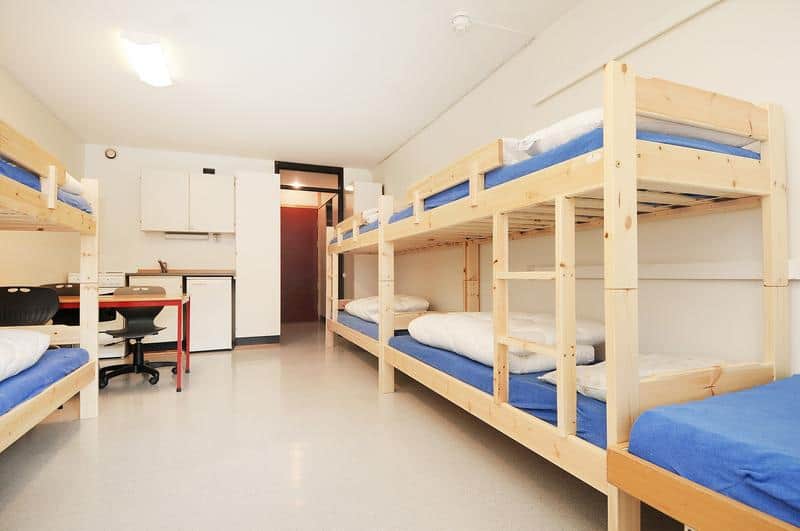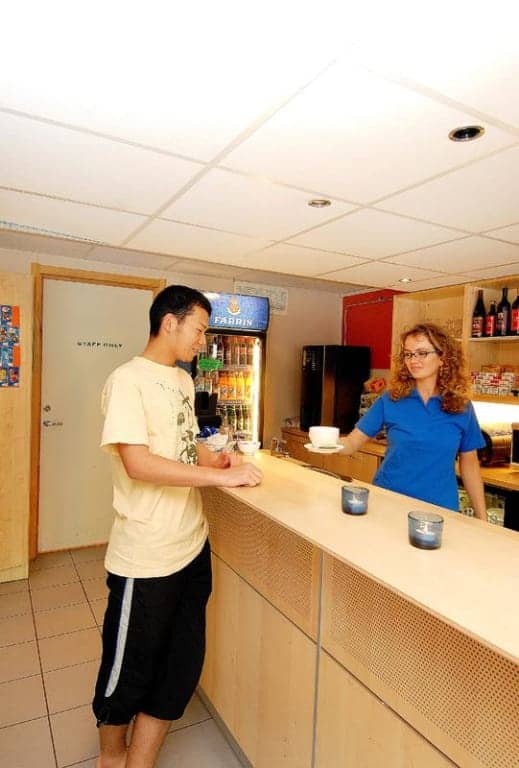 Location – Anker Hostel is only 10 minutes walking distance from bustling Karl Johan within 2km. Located in Oslo City Centre, this hotel is within a 15-minute walk of Jewish Museum and Oslo Cathedral Anker Hostel has easy access to the Central Station and Oslo's shops and restaurants. You can easily find bus and tram stops and a taxi stations near the hostel.
Theme – Anker Hostel has a capacity of 150 rooms and offers accommodation which is relaxed and a cool international atmosphere. All rooms have private facilities. The overall atmosphere is friendly where you can socialize with new or old friends and have a great time.
Value for money – Anker Hotel atmosphere is bright. Anker hostel have amenities such as writing desk, cable TV and a private bathroom with shower. Anker's lobby bar offers light meals and refreshments. Staff at Hotel Anker are super friendly and helpful. They can recommend a variety of trendy restaurants, cafés and shops in the vibrant Grünerløkka District.
Why to visit – Couples prefer this location — they rated it excellent for a two-person trip. Great location, wonderful staff, excellent cleanliness, superb quality of food, boutique style makes it all in one package for stay.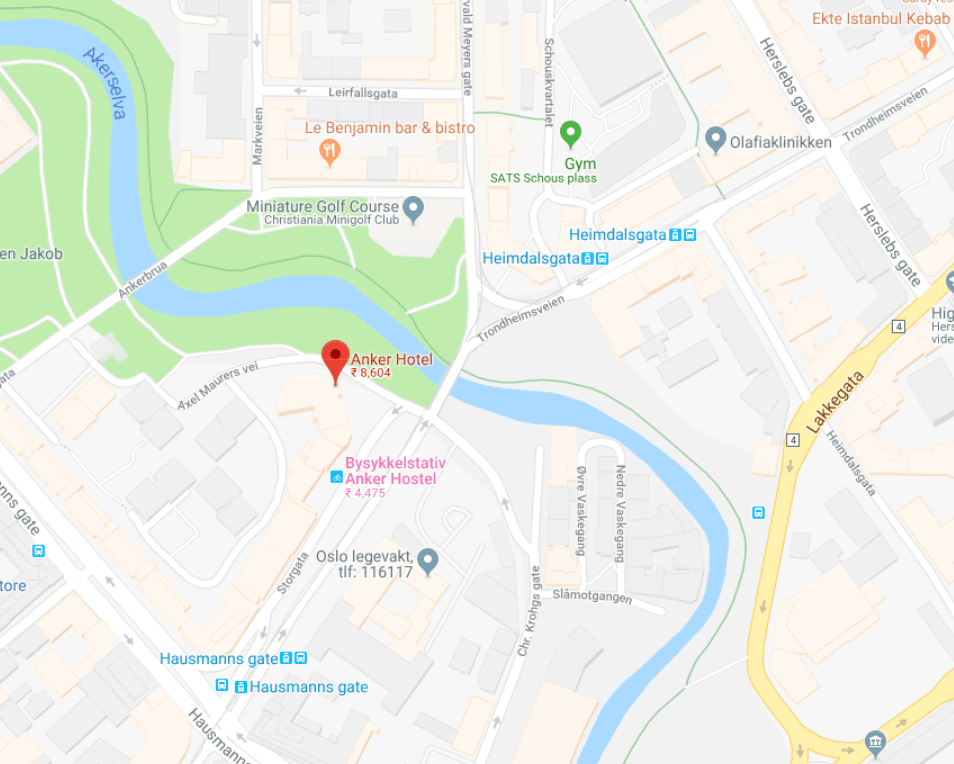 Trip Advisor Reviews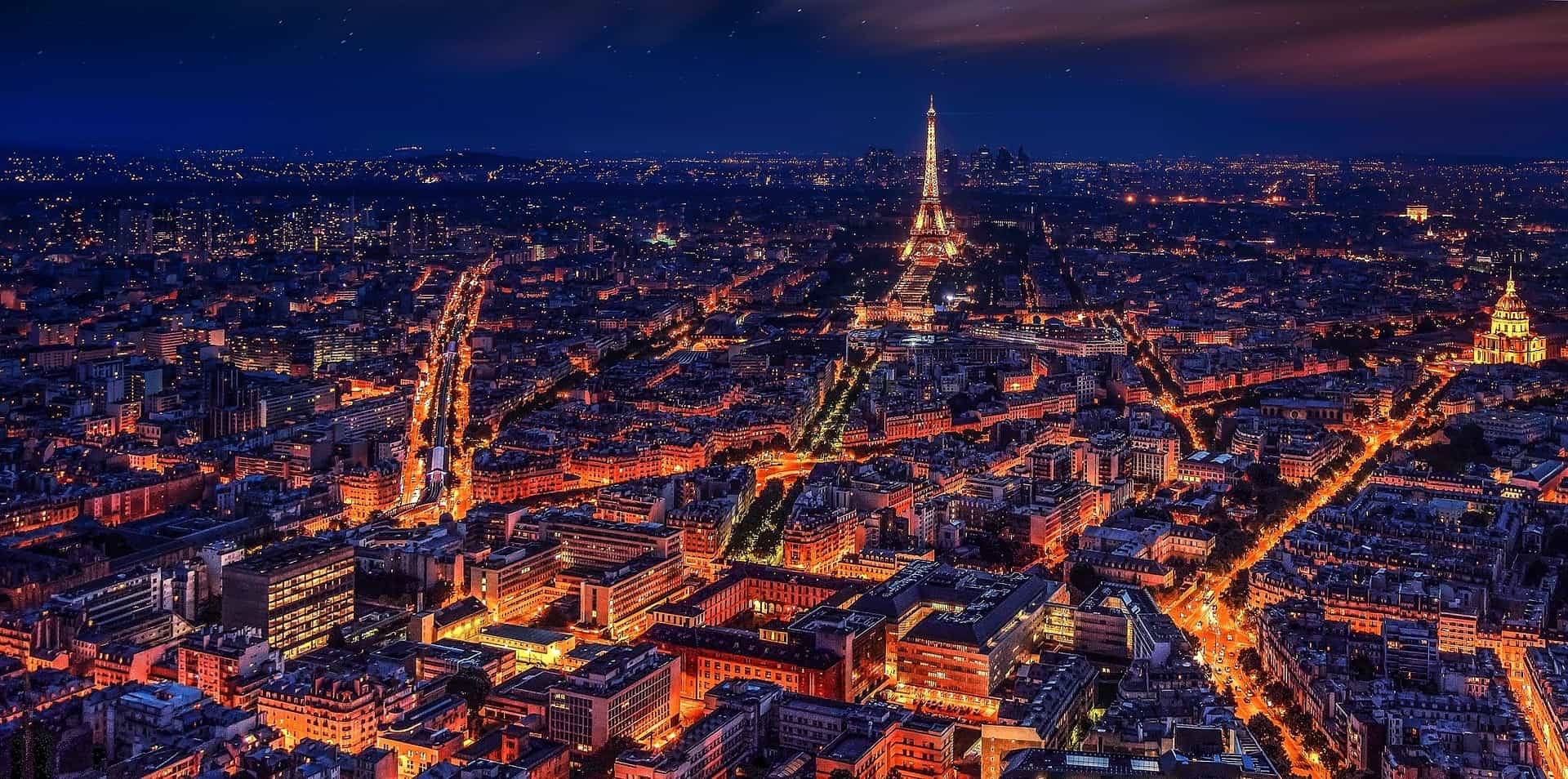 Western Europe is known for the abundant agriculture and a booming tourist trade. Poignant sites including the D-Day beaches and the remnants of the Berlin Wall, Greek temples and Roman bathhouses, castles, and palaces. Most of the people there enjoy high living standards. The region, which has a long history, includes world-famous cities, such as Paris and Rome, and a landscape of rolling farmland, high mountains, and a beautiful coastline along the Mediterranean Sea. Every year, millions of tourists travel to the beaches of the Mediterranean Sea to enjoy the sunny climate, warm waters, and beautiful scenery. Distinct cultures, language, customs, idiosyncrasies, sense of style makes Western Europe an endlessly fascinating place to travel. Every country has its own unique flavors, incorporating olive oils and ripened vegetables, delicate river and lake fish, and meat from fertile pastures. One of the best ways to fill your appetite is to browse vibrant street markets with seasonal produce. Wherever you travel, make sure you enjoy the local life in public squares, parks, and gardens, and in neighborhood pubs and cafes.
Austria, Vienna
Palace Hostel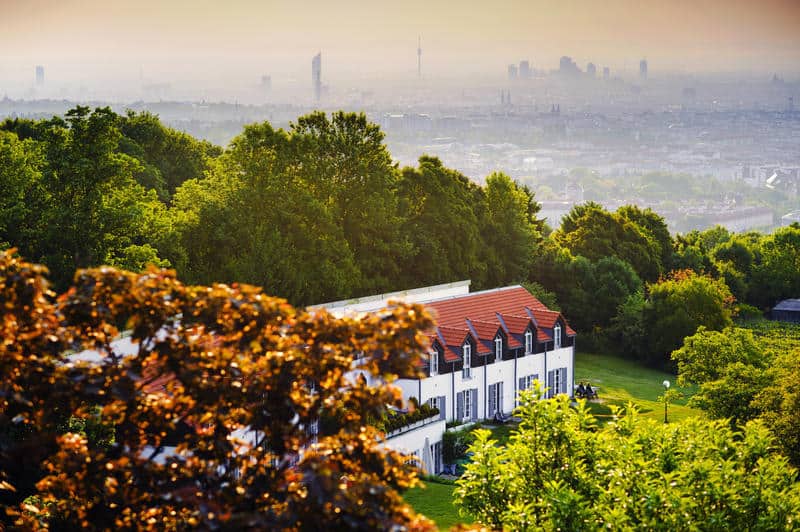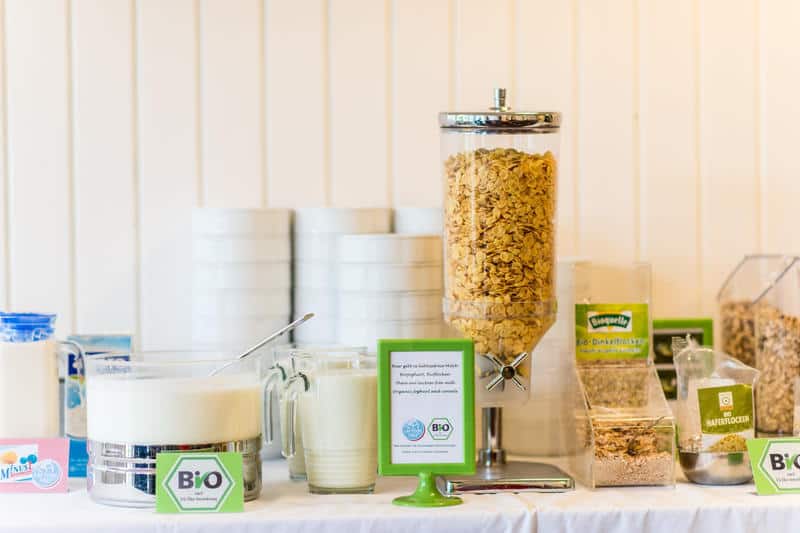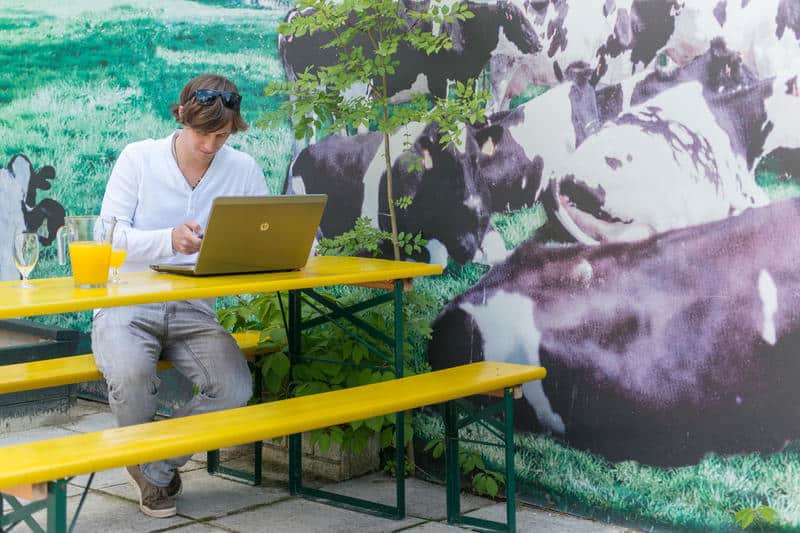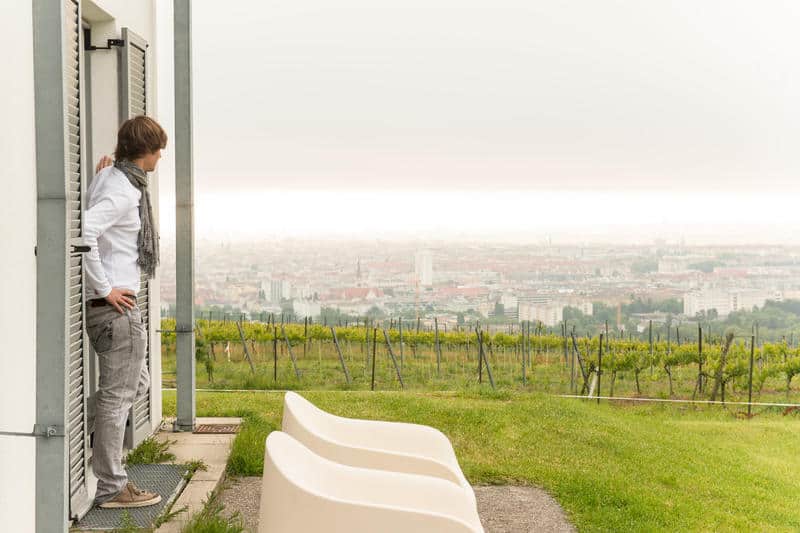 Location – This hostel is perhaps in the best location, and certainly in the most beautiful! Authentic Austrian restaurants are within short walking distance and the 'Wienerwald' is just across the street. Mountain-Bike and Nordic-Walking trails start right from the front door! The Palace Hostel Schlossherberge offers an awesome and fantastic view overlooking the city of Vienna. The hostel is very well connected to the public transport network. The bus stop 'Wilhelminenberg' can be found right in front of the property entrance.
Theme – The Palace Hostel Vienna, is homelike, friendly, fun, clean, comfortable, modern, secure, and ecologically aware low budget accommodation with international staff. The hostel has a mix of budget-conscious travelers like backpackers, young families, or small groups. The hostel gives an authentic taste to the international staff of the beautiful city of Vienna.
Value for money – There is a huge park in front of the house for sunbathing, picnic, relaxing, Yoga, T'ai-chi, … A chill out room with cable TV, table tennis, tabletop football is at your disposal. They even have their own minigolf court! The friendly, international staff with heaps of local knowledge of things to do in Vienna is always happy to help you! This not only makes your stay comfortable but makes your stay worthy.
Why to visit – Its location on the outskirts of the city, will ensure that this hostel makes you feel warm and cozy with the real beauty of Vienna! The Palace Hostel Schlossherberge offers an awesome and fantastic view overlooking the city of Vienna. There are few Viennese restaurants, the Ottakringer open-air pool, and various sightseeing venues in close proximity of the hostel, all easily accessible.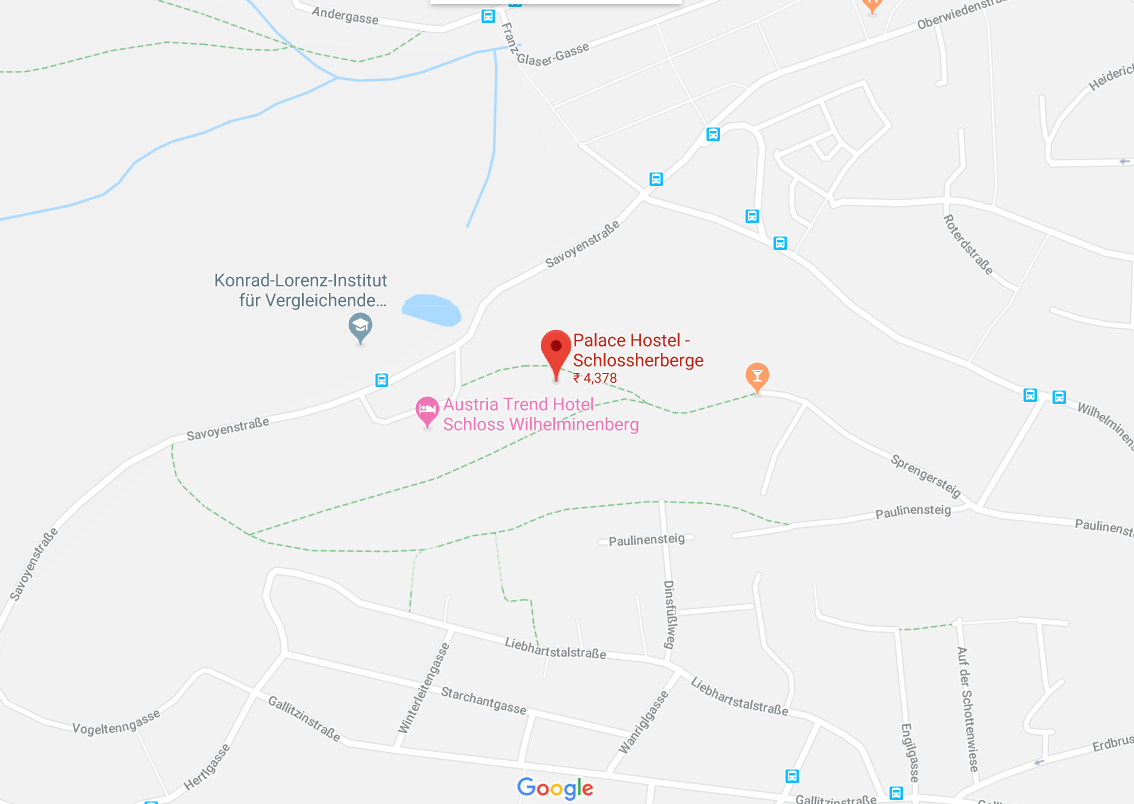 ---
Wombats City Hostel – The Lounge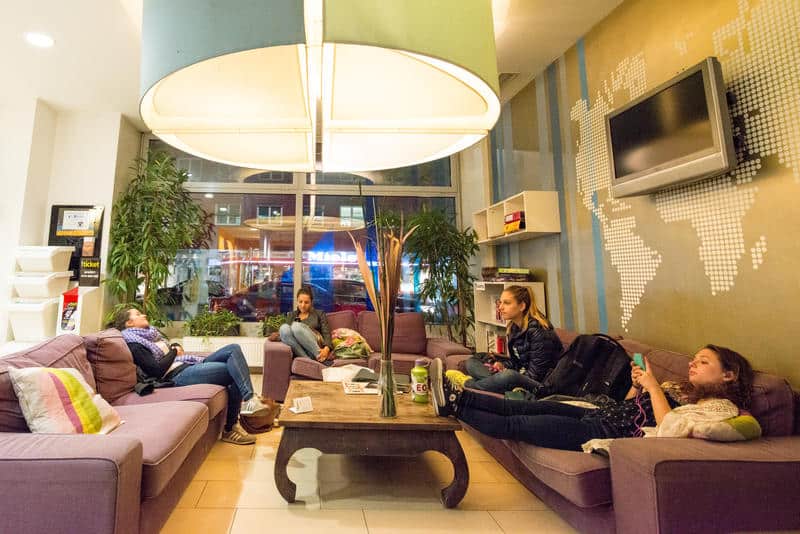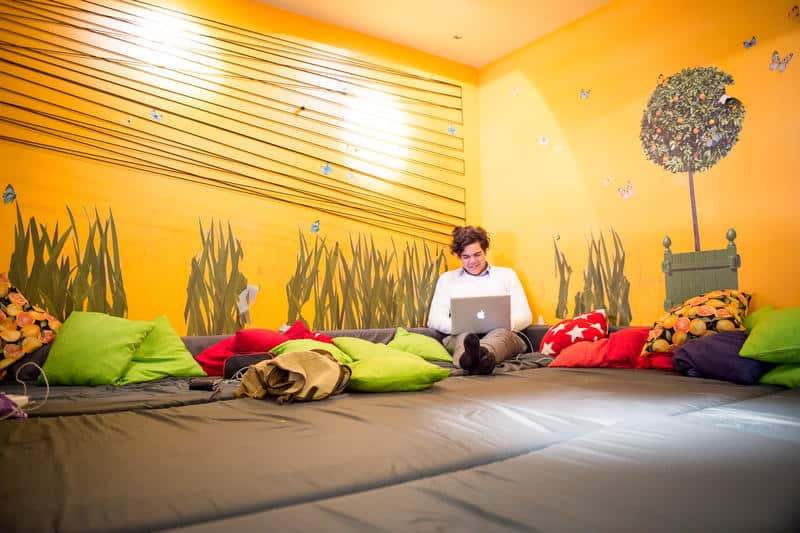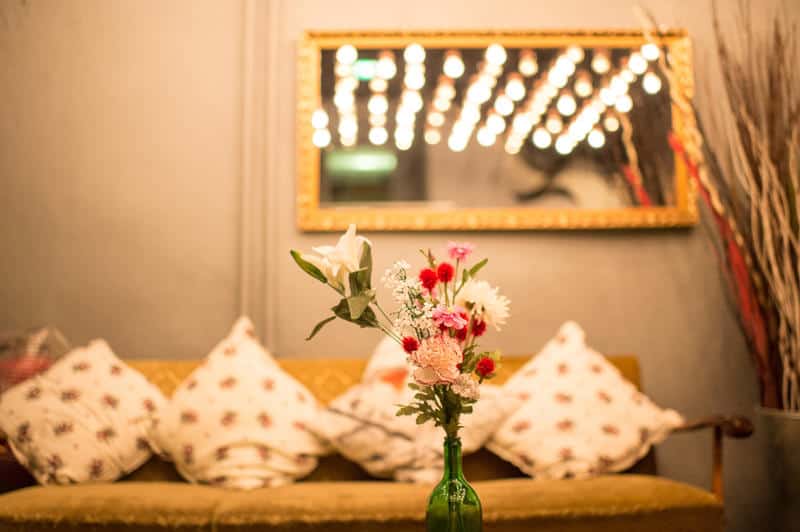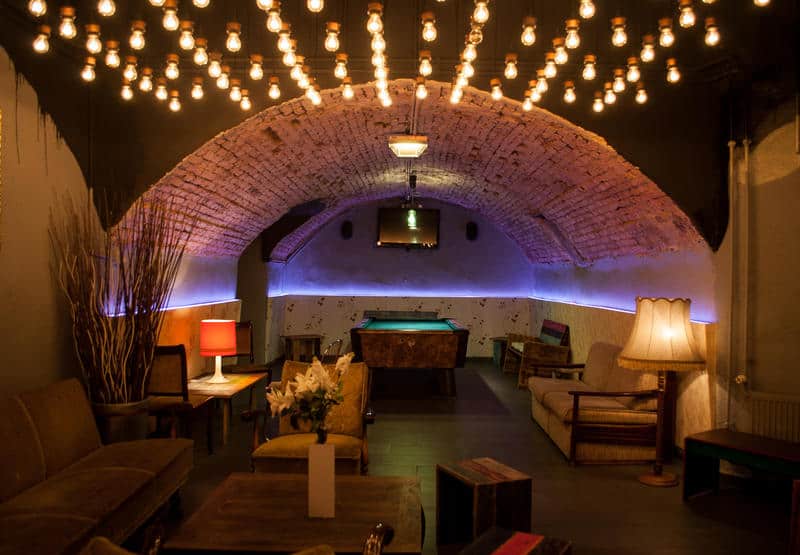 Location – Wombats City Hostel Vienna – the Lounge is located on Vienna's main shopping street and is 'right around the corner from the Westbahnhof, which is where the airport bus stops, and it's a very easy subway right or a walk to the city center'. The hostel is centrally located and close to the trains and public transport, near to Mariahilfer Strasse, the longest shopping street in Vienna, The main part of the Mariahilfer Straße shopping street can be reached in a 5-minute walk, and the Lugner City shopping center is a 10-minute walk away.
Theme– Certainly the best choice if you are up for a state-of-the-art Hostel, cozy common areas, social vibe, and friendly local staff. The bright and modern rooms come with comfy beds, private shower, and toilet facilities. The package includes free bed sheets and towels and there are free lockers in every room.
Value for money– This hostel has a highly-praised breakfast as well as a popular bar which hosts regular parties. The hostel is praised for its helpful, friendly staff. One feels safe and welcomed here. The hostels also have an amazing bar and comfortable lounge where one can relax communicate, socialize and chill. This will make your stay a memorable one! They also offer cheap drinks and food. This property is also rated for the best value in Vienna! Guests are getting more for their money when compared to other properties in this city.
Why to visit– This hostel has a highly-praised breakfast as well as a popular bar which hosts regular parties while keeping the rooms quiet. The reason why Wombat's City Hostels became a destination is that they have the best cleanliness, wonderful location, the most amenities, the best social atmosphere, they are the hostel for travelers for travelers. Cleanliness is something which is taken for granted in many hostels, but they take this seriously: they have won the 'cleanest hostel worldwide' award twice.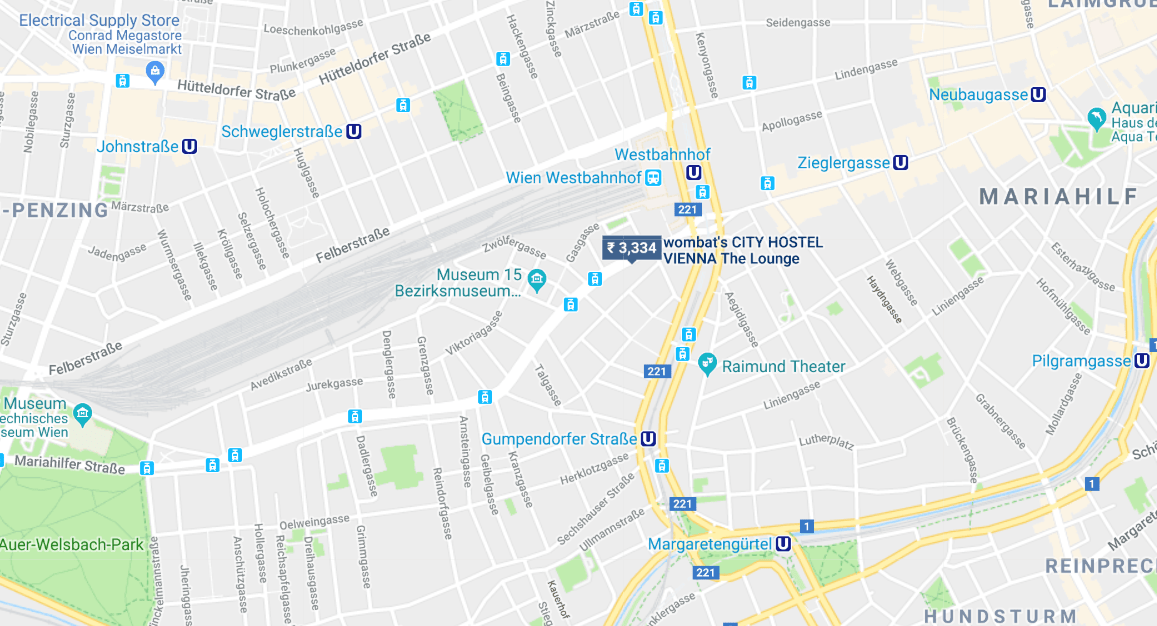 ---
Hostel Ruthensteiner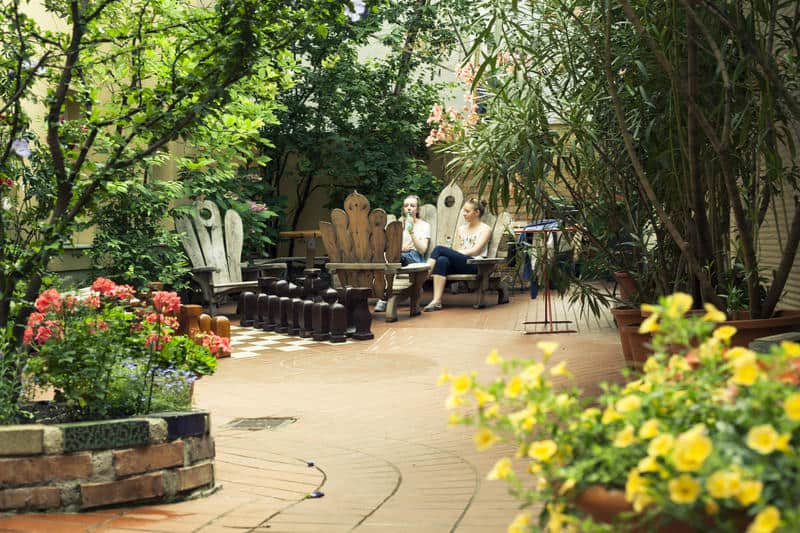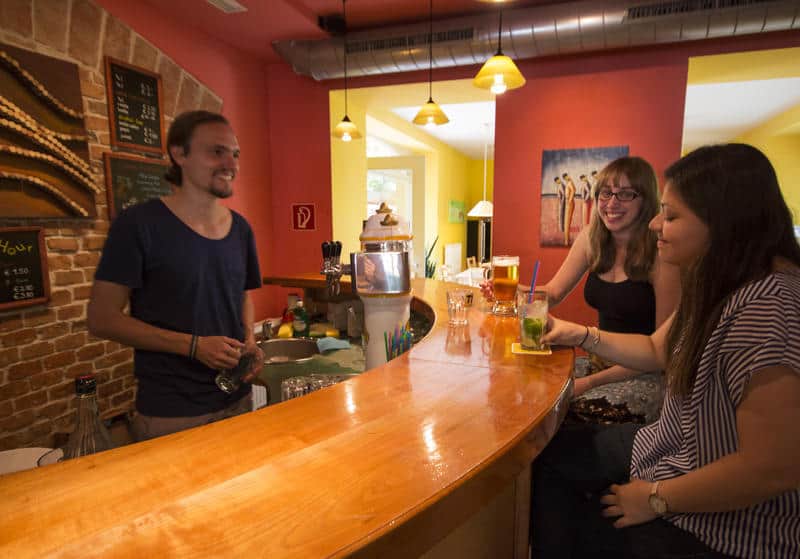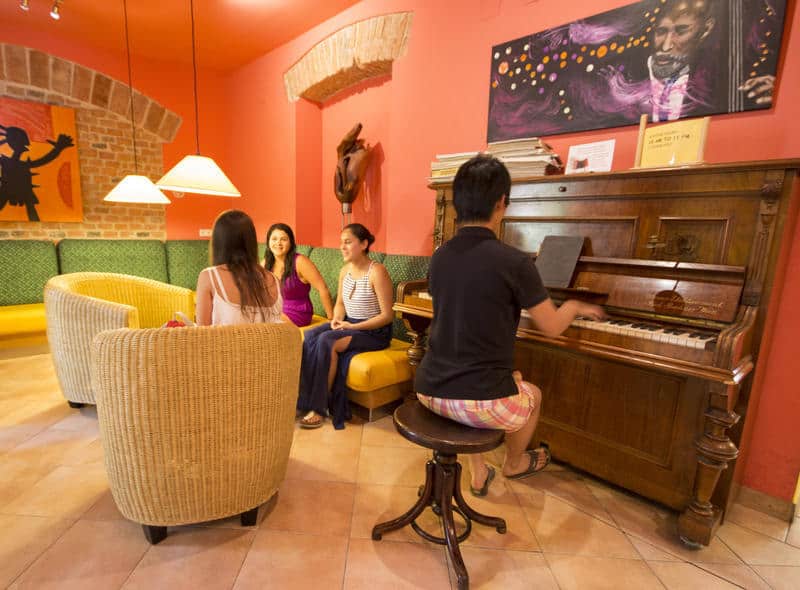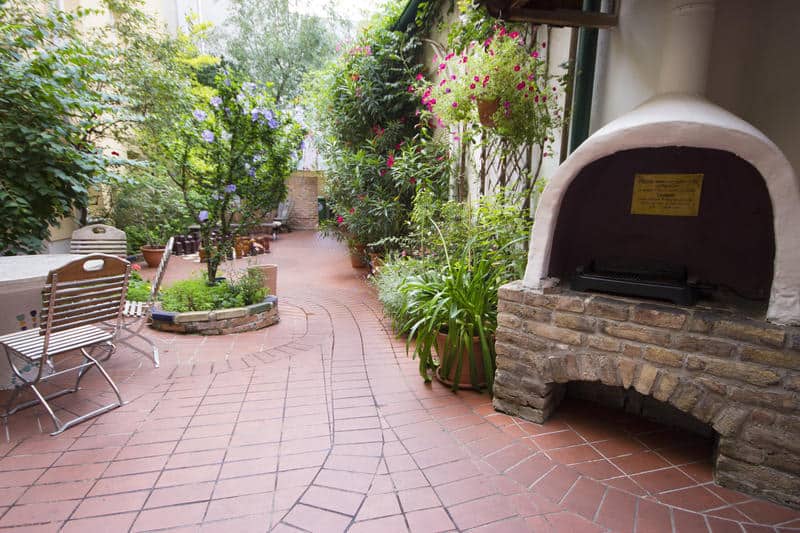 Location – Hostel Ruthensteiner is the perfect place to stay if you're looking for a nice hostel close to the Westbahnhoff train station. The location is well connected to the city center, with all the major attractions just a short tram ride away. Perfectly located between the city center & Schönbrunn Palace, close to the biggest pedestrian street.
Theme – 'Spotlessly clean' and 'easy to socialize', Hostel Ruthensteiner is the perfect place to stay. Hostel Ruthensteiner has a beautiful garden and music area (complete with local artwork & furniture-creations) to help people get friendly with the cool international crowd. An oasis in Vienna, the hostel is perfect for relaxing and making new friends after a busy day of sightseeing – either in gardens or in the cozy bar. The atmosphere is chill, relaxing and friendly.
Value for money – At Vienna Hostel Ruthensteiner you will find a 24-hour front desk, a garden, musical instruments, and a terrace. Other amenities include